It's that time of year again! What better way to get your kids excited about the Fall season and Jesus than with Christian fall coloring pages?
Fall is a season filled with reminders representing the harvest, gratitude, and the changing seasons of life.
Christian fall coloring pages typically feature images and themes that reflect these values, allowing children to engage in a mindful and reflective activity that they'll actually enjoy.
Using Christian fall coloring pages is a wonderful way to combine creativity and spirituality, making the autumn season a great way to to get kids of all ages into God's word.
These coloring pages often include scenes of falling leaves and other commons things associated with the fall season.
As kids color these pages, they can take the time to meditate on the messages and scriptures associated with the artwork.
This process can be particularly beneficial for children as it helps them connect with their faith and learn valuable life lessons in a creative and enjoyable manner.
This post may contain affiliate links, please see our full disclosure for more information.
Fall Christian Coloring Pages
As the leaves begin changing the colors of the landscape, it is a great time to talk to your kids about how Jesus fits into the landscape.
Fall coloring sheets are a great way to intertwine the concept of how everything around us changes, but God remains the same through every new season we experience here on earth.
Sometimes it can be hard to get kids to actually enjoy learning scripture. These provide a creative way to help them stay focused and also to memorize the verses.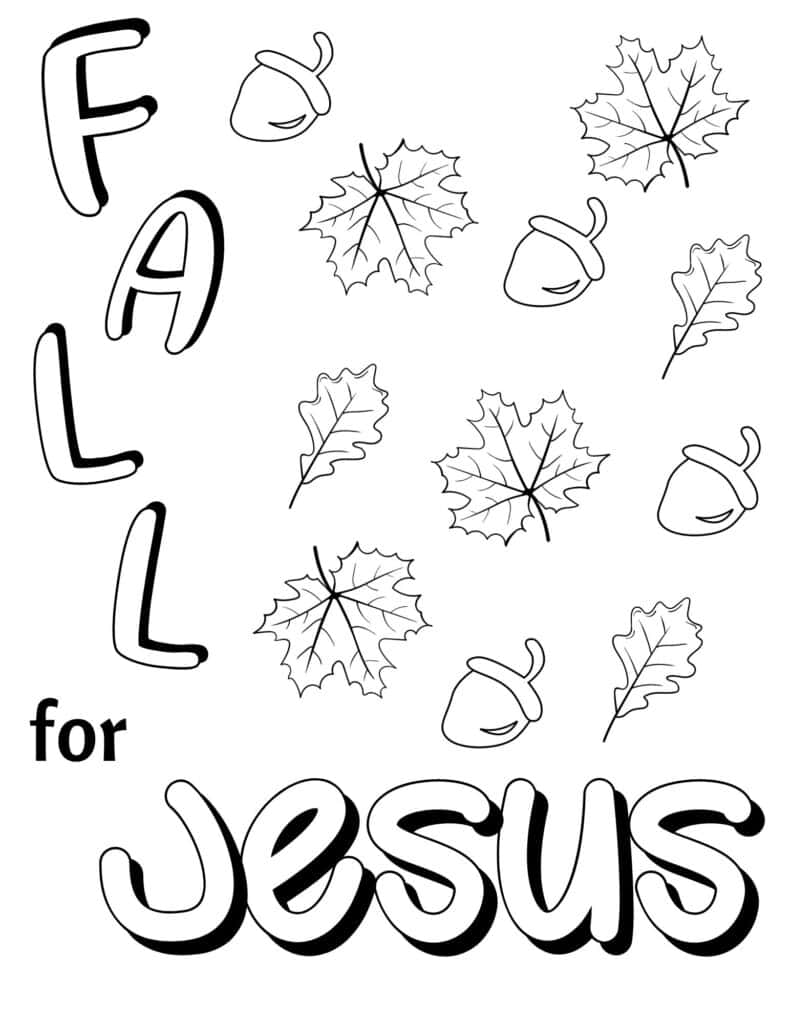 But more importantly, they help them learn about God in a fun and engaging way.
These Falling for Jesus free Bible coloring pages depict falling leaves, which kids associate with this season. This free download has 2 different designs to choose from.
You are free to download these free printable fall coloring pages for personal use or share them with friends and family.
Fall coloring pages aren't just for kids! I've created a beautiful collection of Fall scripture coloring pages for women or older children.
These would make a great addition to your regular Bible study time or simply to meditate on scripture while also enjoying the art of coloring.
Scripture coloring pages offer a wonderful and innovative way to enhance your Bible study routine, providing a unique blend of creative expression and spiritual contemplation.
While traditional Bible study involves reading, reflection, and discussion, adding coloring pages to the mix brings a tactile and artistic dimension to your spiritual journey.
One of the key benefits of incorporating scripture coloring pages into your Bible study routine is the opportunity for deep reflection.
As you color, you engage with the words and themes of the selected scripture on a visual and emotional level.
This multisensory approach can help you internalize the message and gain fresh insights into the text.
It encourages you to slow down, meditate on the meaning, and truly absorb the spiritual wisdom contained within the verses.
The Word of God is filled with scripture to reflect upon the fall season. Each of these Bible verse coloring pages includes fall themes with a verse of scripture associated with the season of change.
So, let's unpack those coloring pencils and tap into your artistic gifts while you meditate on your favorite Bible verse!
Here are some additional free printable coloring pages for the fall season:
How to Use Christian Fall Coloring Pages
There are so many creative ways to use these free coloring pages. They can help build stronger family bonds, provide educational tools to ministry leaders, and help provide outreach opportunities in the community.
Family Bonding and Spiritual Growth: These fall coloring pages can be used as a family activity to encourage time together. It encourages open conversations about faith, gratitude, and the changing seasons of life.
Parents can use this time to share their own spiritual experiences and values, helping children develop a stronger connection to their faith and their family traditions.
These shared moments of creativity and reflection can create lasting memories and strengthen family bonds.
Sunday School: Christian fall coloring pages are a valuable resource for Sunday school teachers. They can use these pages to illustrate biblical stories related to the harvest, thanksgiving, or the changing seasons.
Coloring activities make learning more engaging for children and teenagers, enabling them to connect with the religious lessons on a deeper level. This hands-on approach can be an effective way to teach Christian values and principles.
Therapeutic Benefits: Coloring is known to have therapeutic benefits for individuals of all ages. Engaging in this activity can reduce stress and anxiety, providing a sense of calm and focus.
During the busy fall season, when people might feel overwhelmed with responsibilities and commitments, taking time to color these coloring pages can serve as a form of meditation and relaxation.
It allows you to reconnect with your faith and find solace in the messages and symbols depicted in the artwork.
Outreach and Evangelism: Christian fall coloring pages can also be used as a tool for outreach and evangelism.
Churches can organize community events such as harvest festivals where these pages are provided to the public, inviting people of all backgrounds to join in the activity.
This inclusive approach allows individuals who may not be familiar with Christianity to explore its values and teachings in a non-threatening and creative way.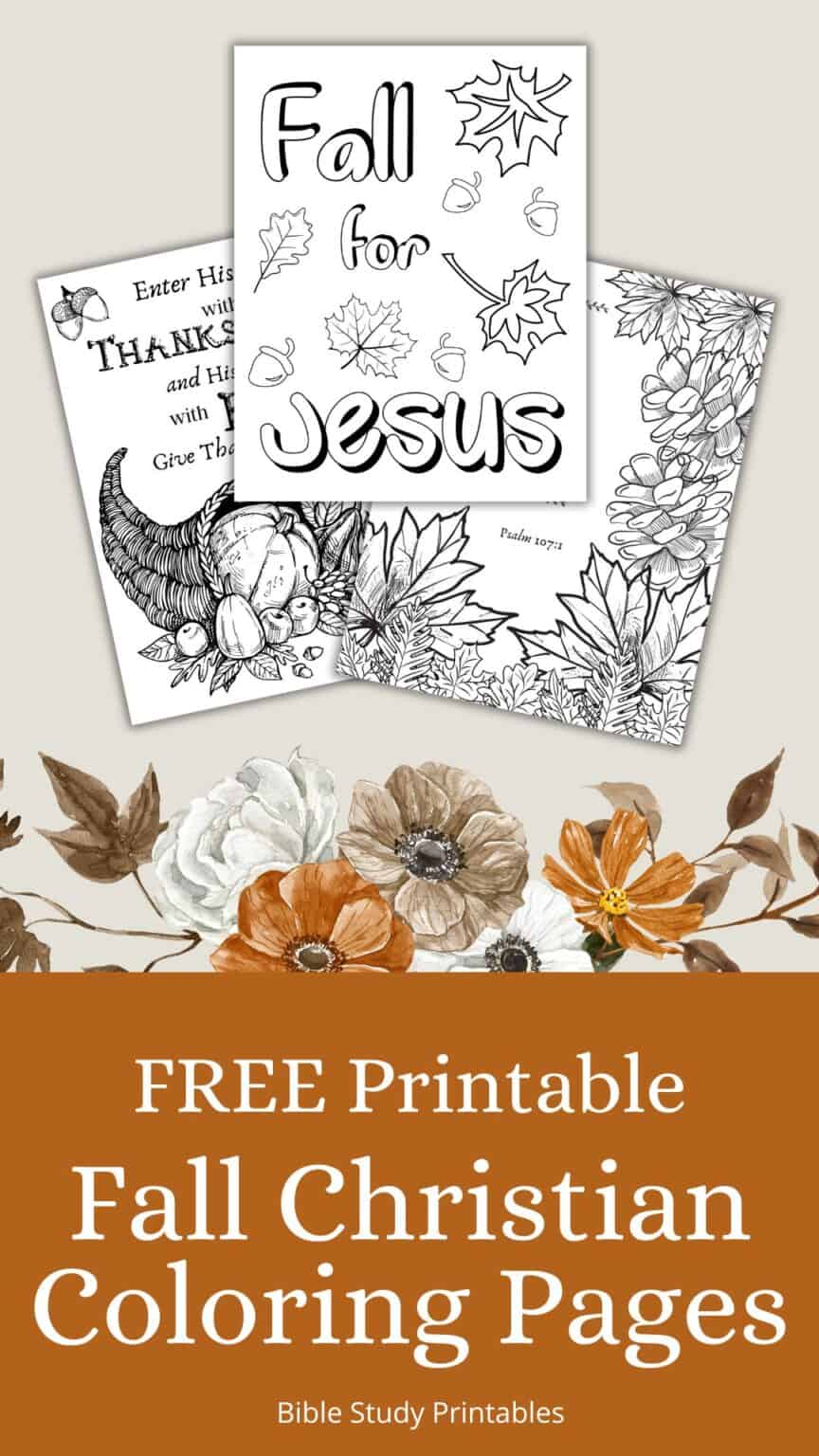 Families can gather around the table to color together, encouraging conversations about faith and the significance of the season.
Churches and Sunday schools can use these pages as teaching tools, incorporating lessons about gratitude, sharing, and the importance of giving back to the community.
Overall, Christian fall coloring pages provide a meaningful way to celebrate the season while deepening one's connection to their faith.
Be sure to also checkout these coloring pages:
​