Do you enjoy journaling? Writing in a prayer journal or a daily journal is a great way to grow stronger in your faith and closer to God. But sometimes, it might be hard to come up with things to write about that keep you focused on God and not yourself.
Christian journaling prompts are a perfect solution to that problem! It may not always seem like it, but you are an important part of God's plan and He wants to know your thoughts. These journaling prompts are designed to help you focus on God, on prayer, and on growing stronger in your faith.
Here are 31Christian journaling prompts so you can think about what you're grateful for, what your worries are, or even just how God has been working in the world around you.
This post may contain affiliate links, please see our full disclosure for more information.
Christian Journaling
Christian journaling can be a powerful tool for personal growth and spiritual formation. We all have thoughts that we don't talk about or share with others, but writing them down is an opportunity to explore your own heart and mind. Christian journaling prompts for adults are designed to encourage us in this process.
How Can Christian Journaling Prompts Help
Instead of having to think about what to write about, Christian journaling prompts can provide a starting point for your journaling session. You may want to start by reading and reflecting on a Bible verse, or you might have an idea for something that's been weighing heavily on your heart.
In addition to providing topics for journaling, Christian Journaling prompts can also help provide new ways of looking at things in life that we find difficult. Whether it is the loss of a loved one, a struggle with depression or anxiety, fear of failure – these are all emotions and situations which will be encountered throughout our lives as Christians.
Journaling prompts are great because they encourage us to think deeply about our faith and whether we are truly embodying Christ in our daily lives. They also have an element of surprise: some days will be easy while others may require deep thought and prayer before writing down something meaningful.
How Do I Use These Journaling Prompts
Use these journaling prompts to help you get started writing in your journal each day. These journaling prompts can be used in any type of journal that you use. Some examples include:
You can use them as they are, or tailor them to your personal needs or a specific situation. The idea is to meditate over the idea or topic from a biblical standpoint. And, ultimately, how you can be more Christ-like in your thoughts and actions in that area?
---
31 Christian Journaling Prompts
No matter what you call them: Christian journaling prompts, prayer journaling prompts, gratitude journaling prompts – they offer opportunities for reflection on scripture, prayer, life events, or other topics important to our faith journeys.
Here are some spiritual journaling prompts to get you started writing this month:
What am I doing today that matters for eternity?
What do my goals/dreams reveal about my heart?
Whom can I encourage today?
What idols seek to steal my affections from God?
Am I holding onto any bitterness?
What brings me the most joy?
How can my stress strengthen my faith
How is sin impacting my life?
Describe a time where I believed God spoke to me.
Tell God how much I love him and praise him for who He is.
How can I serve God better?
Pray for a friend I am thankful for.
Pray a Psalm over my life.
Describe a blessing that happened this week.
I really want God to……
Name 10 ways God sees me.
Am I a peacekeeper?
How did I respond the last time someone upset me?
Who can I serve in a unique way this week?
What is my next step in spiritual growth?
What are my spiritual gifts and how can I use them to glorify God?
Write out the fruits of the spirit and identify any areas that I need to improve upon.
What is God calling me to do that I'm avoiding?
When has God used a bad situation to help me grow?
How can I be a brighter light for Jesus today?
Am I using social media to glorify God or myself? How can I improve on that?
What is my favorite verse in the Bible?
When do I feel most distant from God?
What Bible character do I most relate to and why?
List 5 blessings that I am thankful for every single day.
In what areas of my life do I need to work on obedience to God?
Of course, you'll probably want to keep this list somewhere at the front of your journal so I've created this printable Christian Journaling Prompts pdf that you can download and keep handy.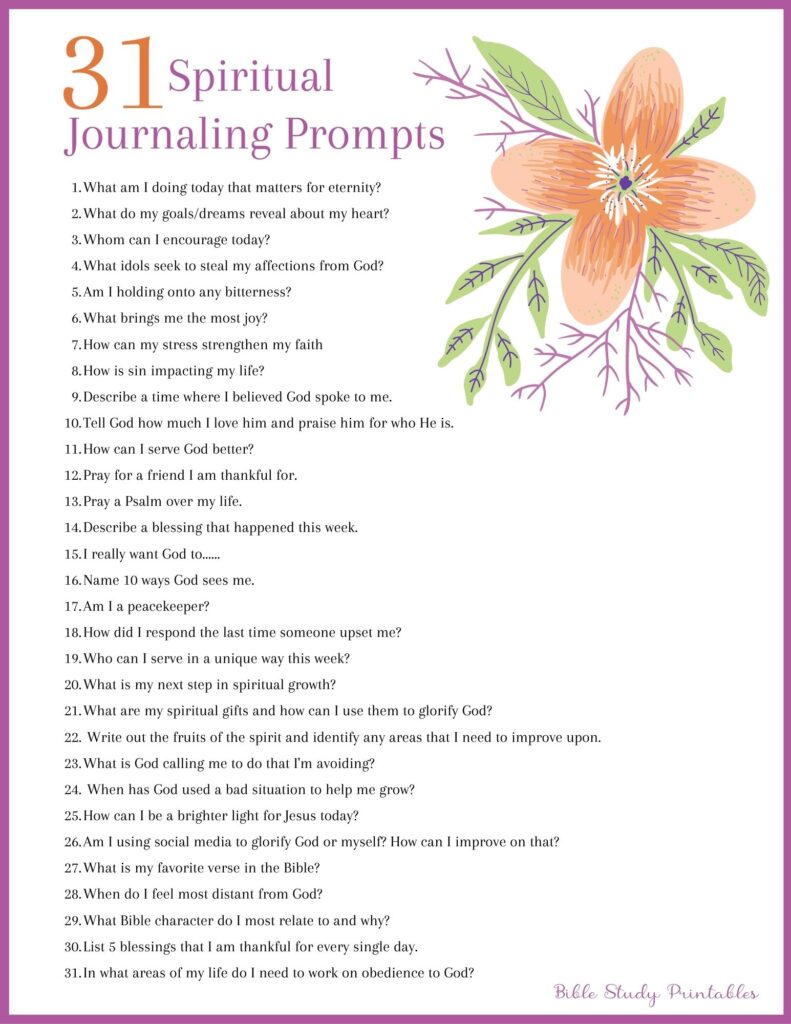 There are so many benefits of Christian journaling, but the most important one is that it helps you grow closer to God. You may be thinking "why should I bother with a journal when my iPhone has all this stuff?" But there's something about writing your thoughts out in physical form on paper and feeling its weight in your hands as you write that makes them feel more real than they ever could on a computer screen or phone.
Plus, we know the act of physically writing down what you're grateful for each day can help remind us how much good is already happening in our lives every minute! So take some time today to start creating habits around gratitude and reflection through Christian journaling prompts – we promise once you try it, it will love it!