If you are looking for some beautiful and encouraging free printable Bible verses to frame and hang on the wall, you've come to the right place! Printable Bible verses make the perfect decor for any room in your home or office. They can be hung alone or they can complement the regular decor you already have.
Below you will find a wonderful selection of different types of printable Bible verses to use for any occasion! You can download them for yourself or share them with friends and family. Let's fill up our spaces with all the encouragement that scripture has to offer!
This post may contain affiliate links, please see our full disclosure for more information.
Free Printable Bible Verses to Frame
What better way to start the day than to see your favorite verse of scripture sitting on your desk or hanging on the wall! I absolutely love scripture art because they provide a constant reminder throughout the day of God's promises and unfailing love for us!
And when gift-giving time comes around, framed Bible verse art makes the perfect gift for any occasion and person on your list! You can print them out and put them in a beautiful frame or even make a stack of memorization cards. Who wouldn't appreciate such a thoughtful and beautiful gift?
Free Printable Bible Verses with Pictures
Are you looking for some bible verses with pictures in the background? Here is a wonderful collection of different designs and picture elements surrounding the different verses of scripture.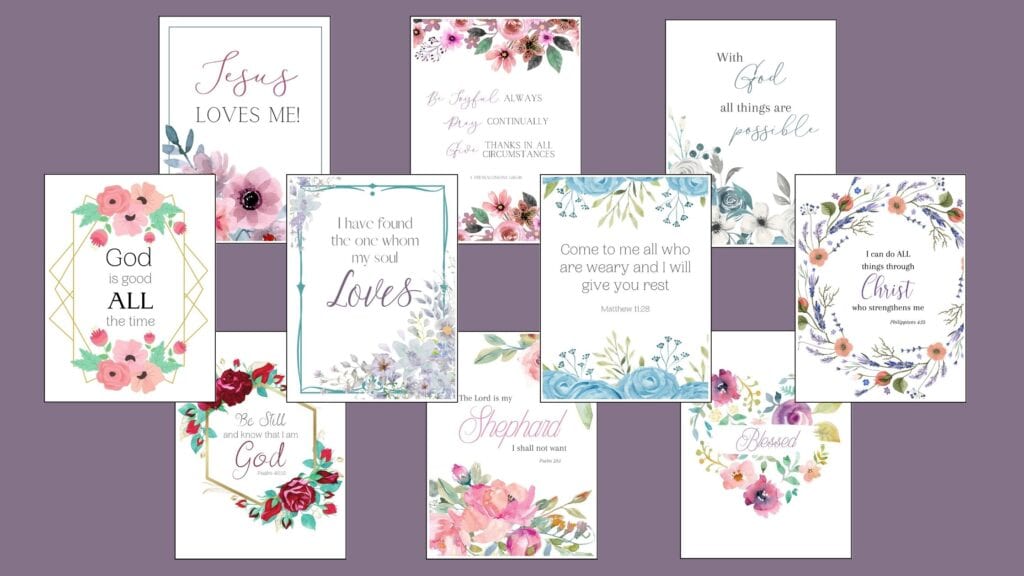 This collection includes many of the most popular verses of scripture set in lovely floral wreaths and floral backgrounds. Some of the verses in this collection include:
With God all things are possible
Jesus loves me
God is good all the time
Come to me all who are weary and I will give you rest
I love how the floral patterns really complement the verse and make them more impactful and memorable!
Printable Bible Verses for Encouragement
What is your go-to verse of scripture when you need a dose of biblical encouragement? This collection includes some of my favorite verses to encourage and inspire me in all situations. Each one is surrounded by beautiful floral elements that make for the perfect framed decor!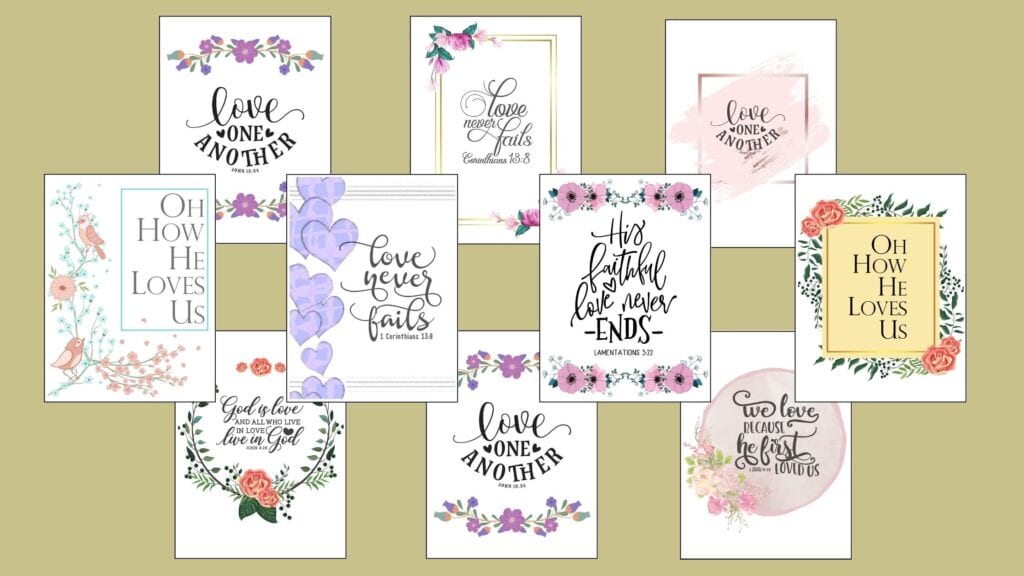 Some of my favorite love verses and phrases include:
love one another
oh how He loves us
love never fails
These printable love verses would make a perfect addition to a prayer journal or for decorative inserts for your Bible!
Printable Bible Verses About Love
God's love for us is undeniable! His love immeasurable and unending!
This collection of free printable bible verses about love includes all my favorite verses of scripture about loving others and about God's love for me. Each one is on a backdrop of beautiful flowers and colorful picture elements that will make any picture frame worthy of being on your wall!
Free Printable Bible Verses to Color
Looking for some free printable bible verses to color? One of my favorite things to do is color my favorite verses of scripture! Use these free printable bible verses to color with your own palette and theme so they match your home or office design!
Here you'll find a wide variety of your favorite verses of scripture with beautiful design elements such as birds and flowers. They can be framed and placed on a desk or bookshelf, or simply hung on the wall!
I also use these in my Bible journaling group and share them with some of the ladies from church. They shared them with their family members who are in nursing homes and were not able to get out much over the past year.
Some have even used them during their women's ministry group meetings!
Free Printable Bible Verses Black and White
Can't find a favorite verse in a color to compliment your current decor theme? No problem! A printable Bible verse in black and white will work with any color palette!
These free printable Bible verses in black and white include beautiful cursive lettering as well as block lettering.
Printable bible verses can be used for more than just hanging on your wall as art! You can also use them to supplement your Bible study time. Instead of printing them on full-size paper, scale them down and make them more of card size, and use them for verse memorization!
We hope that these printable bible verses have been helpful to you in many ways. Perhaps they've given you some decorating ideas, or helped you find the perfect scripture verse for your journaling project. They may even be a useful gift idea for someone on your list this holiday season! Whatever use is found for them- we are happy that they were able to transform into something beautiful and meaningful.
For more fun and creative ways to use Scripture, be sure to check out: