Psalm 91 is a beautifully written psalm of protection and encouragement. It reminds us that God is with us in times of trouble and danger. It speaks of God's love and protection, as well as His strength and ability to keep us safe and secure.
It speaks of God's faithfulness and protection over those who trust in Him.
It begins by declaring God's protection over those who abide in Him and make Him their refuge; and goes on to assure us that no matter what we may face, God will be with us and will never forsake us.
It is a powerful reminder that God is our strength and our shield, and we can trust Him to rescue us in times of trouble.
This post may contain affiliate links, please see our full disclosure for more information.
Why is Psalm 91 so Important?
Psalm 91 is a powerful prayer of protection and safety, promising that God will be our shield and our fortress. We can pray and use Psalm 91 as a guide to cry out to God in prayer when we are afraid or going through something difficult.
It is a reminder of God's loving kindness and faithfulness, reminding us of His promises to us.

It is a reminder that God is always with us, no matter what our circumstances may be.
It is a reminder of the power of prayer and that God hears and answers our prayers.
It is an encouragement to have faith and trust in God and His plans for our lives.
When you use Psalm 91 as a guide in prayer, you can use it to:
To express your trust in God's protection.
To remind yourself of God's presence in your life.
To feel close to God during difficult times.
To ask for guidance and discernment.
To recognize God's power over all things.
To find comfort in the knowledge that God is with you always.
To thank God for His constant love and care.
To remind yourself that God will never forsake you.
To experience peace and joy in knowing that God is in control.
To thank God for His faithfulness and mercy.
Psalm 91 Words
1 Whoever dwells in the shelter of the Most High
will rest in the shadow of the Almighty.
2 I will say of the Lord, "He is my refuge and my fortress,
my God, in whom I trust."
3 Surely he will save you
    from the fowler's snare
    and from the deadly pestilence.
4 He will cover you with his feathers,
    and under his wings you will find refuge;
    his faithfulness will be your shield and rampart.
5 You will not fear the terror of night,
    nor the arrow that flies by day,
6 nor the pestilence that stalks in the darkness,
    nor the plague that destroys at midday.
7 A thousand may fall at your side,
    ten thousand at your right hand,
    but it will not come near you.
8 You will only observe with your eyes
    and see the punishment of the wicked.
9 If you say, "The Lord is my refuge,"
and you make the Most High your dwelling,
10 no harm will overtake you,
no disaster will come near your tent.
11 For he will command his angels concerning you
to guard you in all your ways;
12 they will lift you up in their hands,
so that you will not strike your foot against a stone.
13 You will tread on the lion and the cobra;
you will trample the great lion and the serpent.
14 "Because he loves me," says the Lord, "I will rescue him;
I will protect him, for he acknowledges my name.
15 He will call on me, and I will answer him;
I will be with him in trouble,
I will deliver him and honor him.
16 With long life I will satisfy him
and show him my salvation." – Psalm 91 NIV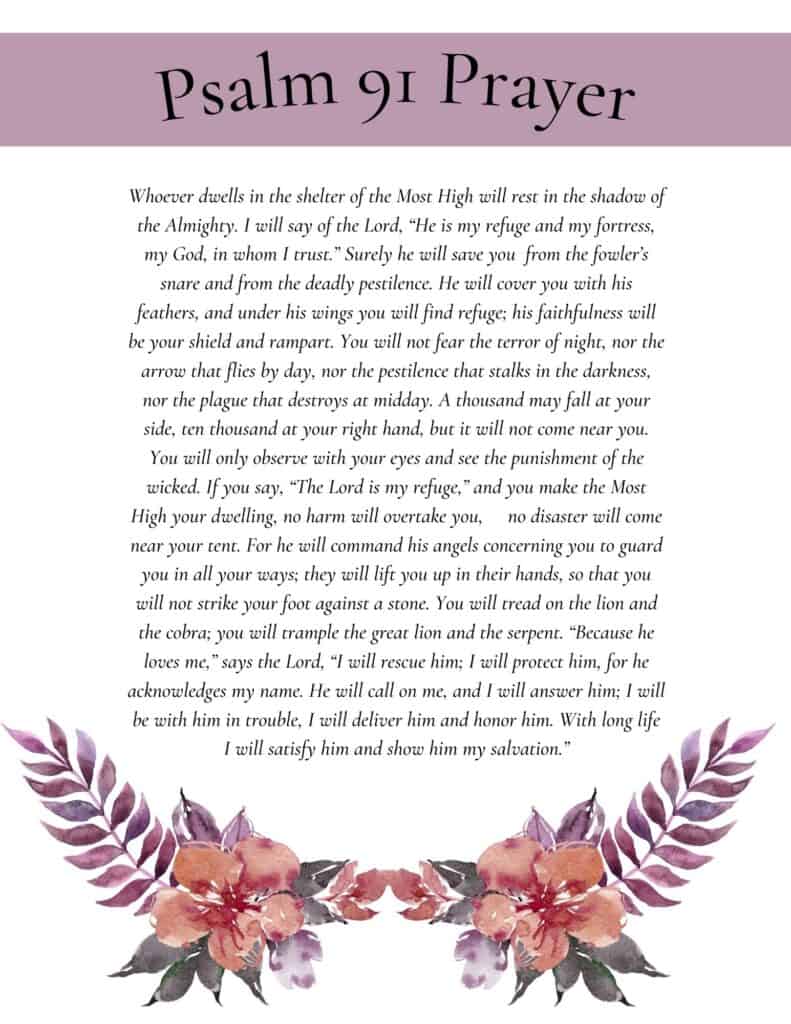 Printable Psalm 91
Psalm 91 is such a beautiful section of Scripture and makes for great wall art! Keep these promises close by at all times with these printable Psalm 91 images. Just print them out and frame them!
There are several different designs so feel free to use the one that works best with your own decor. You can right-click/save any image on this page and frame it!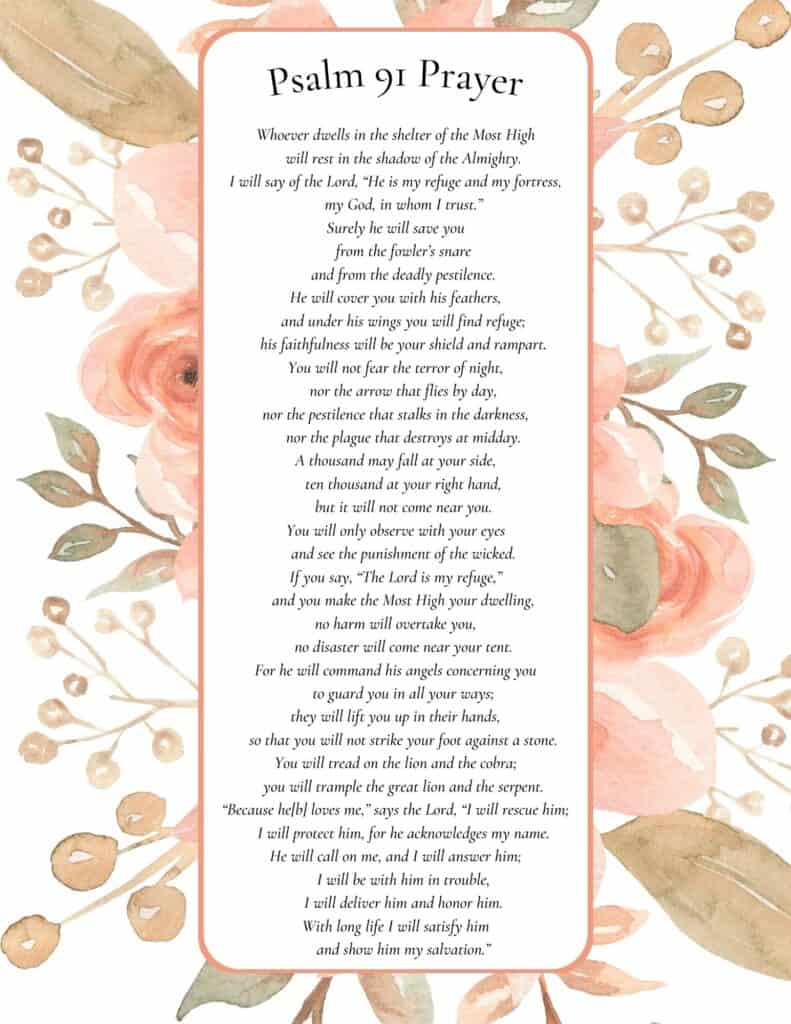 Looking for more beautiful prayers to print out and hang on the walls?
Be sure to check out our printable: