Religious Valentine Cards are the best way to share about God on Valentine's Day. Why?
Because God is love and this particular holiday is all about love. So what better way to tell someone you love them than by giving them a reminder that God loves them more!
Sure, there are tons of different Valentine's Cards you can purchase from the store, but when you add a verse of scripture or a quote about Jesus, it lets the recipient know about God's love as well!
For some kids, receiving this Christian-inspired Valentine's Day card might be the first time they've ever heard about Jesus or read a verse from the Bible.
This post may contain affiliate links, please see our full disclosure for more information.
Religous Valentine Cards
The cards you buy at the store can get pricey and are pretty generic in nature. I created these fun, Religious Valentine's Cards so you can print them at home as many times as you want.
These free printable Valentine's cards are the perfect size for school-aged children to share with their classmates and even add a piece of candy.
Some of them have an actual Scripture verse about God's love for them. Others have cute Jesus-inspired Valentine's Day sayings such as "Jesus loves you."
God reminds us over and over about His love for us. These scripture verses make the perfect addition to your Christian Valentine's Day cards!
We love become he first loved us. 1 John 4:19
Nothing can separate us from God's love. Romans 8:39
For God so loved the world that he gave his one and only Son, that whoever believes in him shall not perish but have eternal life. John 3:16
And now these three remain faith, hope, and love. But the greatest of these is love. 1 Corinthians 13:13
Do everything in love. 1 Corinthians 16:14
How great the love of the Father has lavished on us. 1 John 3:1
I absolutely LOVE these Religious Valentine's Day cards! They have the cutest sayings about how much God loves you!
God's love is so sweet! You are a gift from God!
How fun are these sayings?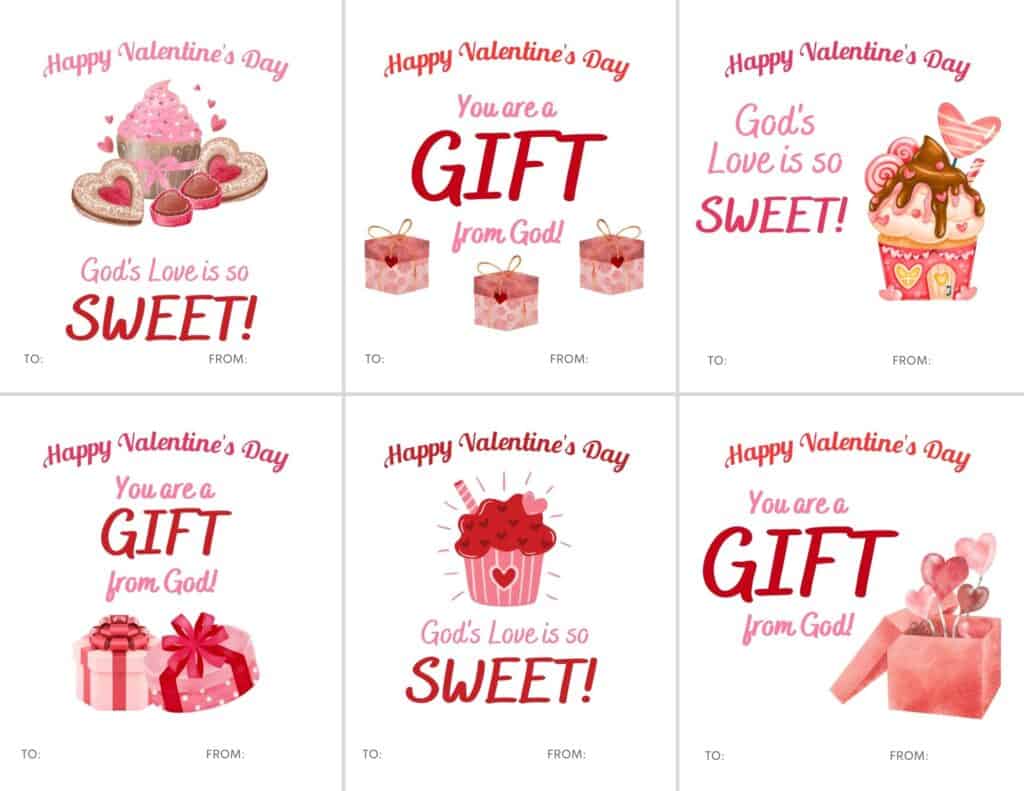 You can download and print out all of these Christian Valentine's Day cards here.
In addition to the ones I've made, you can find some other really great religious Valentine's Day cards on these sites:
No matter the holiday, we can always keep Jesus at the center of it. Be sure to also check out these Christian Valentine Coloring Pages for even more Valentine's Day fun with Jesus!