Prayer is one of the most important things we can do to maintain a close relationship with God. There are many different ways to pray, but the ACTS model may be the simplest and easiest way for new believers or those who struggle with prayer.
Let's dive in and learn what ACTS stands for, how to use it in your prayers, and why you should consider using it.
This post may contain affiliate links, please see our full disclosure for more information.
What is the ACTS Prayer Model
The ACTS prayer model is a simple way to help us focus our prayer time to be more intentional and impactful. It is also a great way for new believers to start praying without feeling overwhelmed because it gives us four specific areas to focus on (in a specific order).
Why is the order important? Simple. Our natural tendency is to make our prayer time about us, about OUR needs. But that simply isn't what prayer is for! Prayer is to help us grow closer in our relationship with God. The ACTS prayer method helps us keep God as the focus of the conversation instead of ourselves.
ACTS stands for:
Adoration
Confession
Thanksgiving
Supplication.
Adoration means loving God with all your heart and mind as you praise Him in song or prayerful silence. Start your prayer time by simply praising God for who He is. When we start our prayer time by praising God, this helps us keep our eyes fixed on Him during this time.
Not to us, Lord, not to us but to your name be the glory, because of your love and faithfulness. Psalm 115:1 NIV
Confession – Humble yourself before the Father and confess your sins and ask for forgiveness. Although He already knows, He wants us to tell Him where we have fallen. Let Him know the temptations you've given in to and the areas of your life and ask Him to forgive you.
Then I acknowledged my sin to you and did not cover up my iniquity. I said, "I will confess my transgressions to the Lord." and you forgave the guilt of my sin. Psalm 32:5
Thanksgiving – Thank God for all the many blessings He has already given you and for those that have not yet come. Even in the midst of a difficult season, it is important to always remember the blessings in your life! God has moved before and He will move again in your life!
Give thanks to the God of heaven. His love endures forever. Psalm 136:26
Supplication – The final part of the ACTS prayer model is to present your requests to the Father. These requests can be broken down into 3 types: God-centered requests, prayers for others, prayers for yourself.
During this time, ask Him for things that help to make you a better Christian, ask Him for things on behalf of others (think of others before yourself), but also ask for the things you are hoping for as well.
Therefore I tell you, whatever you ask for in prayer, believe that you have received it, and it will be yours. Mark 11:24
ACTS Prayer Sample
How do your write a prayer using ACTS?
I'm the kind of person who learns from examples. I learned to pray by simply watching the amazing prayer warriors at church. As you get started on your own prayer journey, it can be hard to just get that first sentence started.
While there is no ONE right way to write out or say the different parts of the ACTS prayer model, these sample prayers might help you get your own started.
Here are some simple prayers using the ACTS prayer model:
ACTS Prayer Sample for Adoration
Father, You are my one and only God. Everything I am is because of you. I am nothing without you! You are the name above all names and I seek to glorify you in everything I do and everything I say.
ACTS Prayer Sample for Confession
Father, today I let anger take hold of my words when I lashed out at my neighbor. I'm so embarrassed for how I acted because my actions did not glorify you. I beg for your forgiveness and for the strength and wisdom to respond different to situations like this in the future.
ACTS Prayer Sample for Thanksgiving
God, Thank you for giving me grace every single day! Thank you for your unending love and for the many blessings that you have graciously given me. Thank you for my family. Thank you for the gifts you given me that enable me to provide for my family. And Thank You in advance of the many blessings that await in the future.
ACTS Prayer Sample for Supplication
God-Centered Prayers – These are prayers that you ask to better align you with biblical principles such as prayers to know Him more, to be filled with the fruits of the spirit, or to discern the enemy.
Prayers for Others – Simply ask God on behalf of another. This could be an actual prayer requested by someone (a sick friend), or that you simply want to ask for them (a friend who is making bad or un-Godly choices in their life).
Prayers for Yourself – Finally, you should just ask God for anything you are wanting for yourself. This can be anything – big or small. Maybe you are hoping for a Godly man (future husband), for a promotion at your job, an offer on your home. Just ask Him!!
ACTS Prayer Handout
As you begin praying using the ACTS prayer model, it may help to have an ACTS prayer worksheet to keep in your prayer journal or to hang on the fridge. I created a couple of different styles and designs so hopefully, you'll find one that you like! Use this link to download them!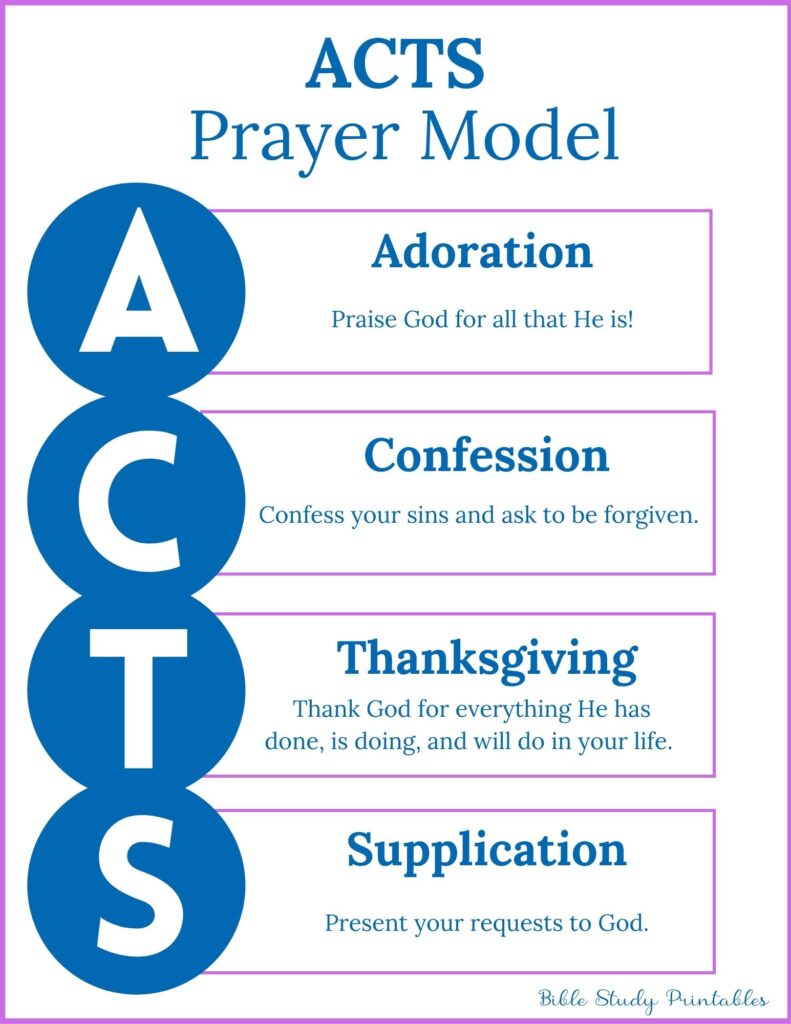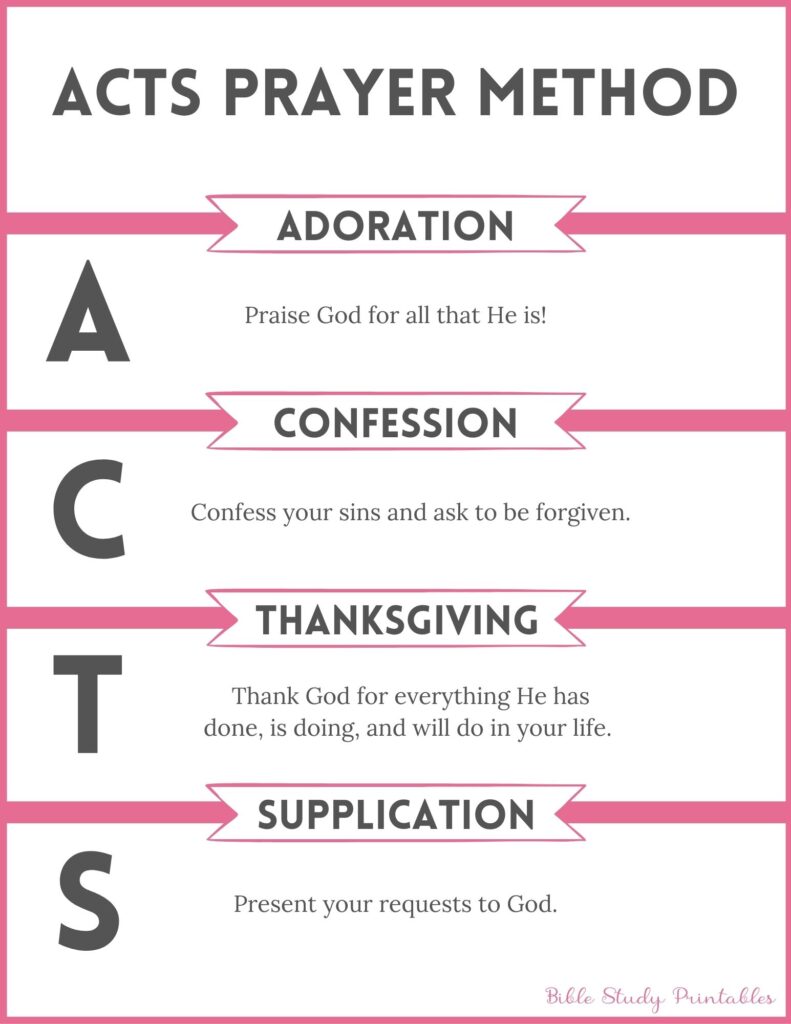 ---
Our prayer lives are often cluttered and unfocused. We start new prayers without finishing old ones, or we don't pray for anything specific at all. But God is always listening to us! In the ACTS model of prayer, you can take a few minutes each day to have a focused conversation with God.
It also helps us keep our eyes fixed on the Father and not on ourselves. Remember, prayer isn't just for asking God to do stuff for us! We should be spending more of that time praising and thanking Him, as well as praying for others.
Additional Reading: