Are you struggling to get your kids to enjoy learning about the Bible? Or maybe you are looking for a fun way to engage your Bible study group?
Have you heard of Bible Bingo?
Games can be a great way to learn scripture because it makes the learning interactive.
Bible Bingo is a great way to learn the Bible and have fun doing it. It can be used as a group activity during Sunday school class, in small group and large group Bible study, as well as at home with the family.
Incorporating Bible Bingo into your faith journey will help keep it fresh and interesting while teaching important life lessons from God's Word.
This post may contain affiliate links, please see our full disclosure for more information.
What is Bible Bingo
Bible bingo is a creative spin on the traditional Bingo game. Instead of the traditional letters/numbers being called out, the cards are created with Biblical concepts such as Bible characters, Bible verses, and other similar things.
Aside from simply having fun, the goal of Bible bingo is to offer a fun and creative way to learn Scripture.
How Do You Play Bible Bingo
Bible Bingo is played in pretty much the same way as you would regular Bingo.
Supplies Needed:
Bible Bingo Cards for each player (each card should have a different layout)
Master Bingo Card for the game leader
Bible Bingo pieces (These are individual cutouts of the Bingo playing elements that will be pulled from the jar.)
Something to mark the spaces. (coins, pencil, etc)
How to Play Bible Bingo:
Hand out a playing card to each participant.
Place all the Bingo pieces in a jar or bowl and mix them up well.
Draw a Bingo piece and call it out.
Players will look at their playing card and if they have it on their card, they will mark it with a coin (or whatever marking device they are using.
Continue drawing and calling pieces until someone calls Bingo! This happens when one participant fills in an entire line (across, vertical, or diagonal).
Verify the winner's card again the master card to ensure it is accurate.
Award a prize
Play again!
Just like with regular Bingo, there are some special variances that you can add (if you want) to make the game a bit more challenging. This is simply to adjust how the winner actually gets a "bingo" win on his/her card.
Square – The winner of this game will have marked out all the outer squares on the card.
X Marks the Spot – The winner will have marked out both diagonals (making an "X" on the card)
Blackout – The winner marks out ALL squares on their card
Bible Bingo Games
While how you play the game is pretty standard, there are a lot of different themes for Bible Bingo games. Remember, the goal is to help them learn biblical concepts, characters, stories, and verses.
You can find ones that are already put together and ready to play. Or you can download the printable Bible bingo cards at home.
Fortunately, you don't need any special bingo card printer software because you can just adjust your printer settings for the size you want them printed out.
I would highly recommend printing them out on card stock since they will be handled quite a bit. Card stock will enable them last much longer and not tear so easily.
I found this really cool Bingo card generator that enables you to create your own free printable bingo games. Simply enter the different words you want displaying on your game boards and then send them to your home printer.
The coolest thing about Bible Bingo is that you can get super creative in creating them. You can use different words or images instead of numbers like the regular Bingo uses. That makes for an almost infinite amount of themes for the Bible Bingo board.
With older kids who can read, you can find even more Bible Bingo game themes for them to use. Many of these themes focus on things like books of the Bible, Bible characters, and Bible stories.
When playing Bible Bingo with toddlers, you'll want to find a game that uses pictures instead of words (since toddlers can't yet read).
Birth of Jesus Bible Bingo
This printable Birth of Jesus Bingo Game is the perfect addition to your Christmas story collection of games and activities.
Use it in your family worship time, in Sunday School, or in your Christian elementary classroom.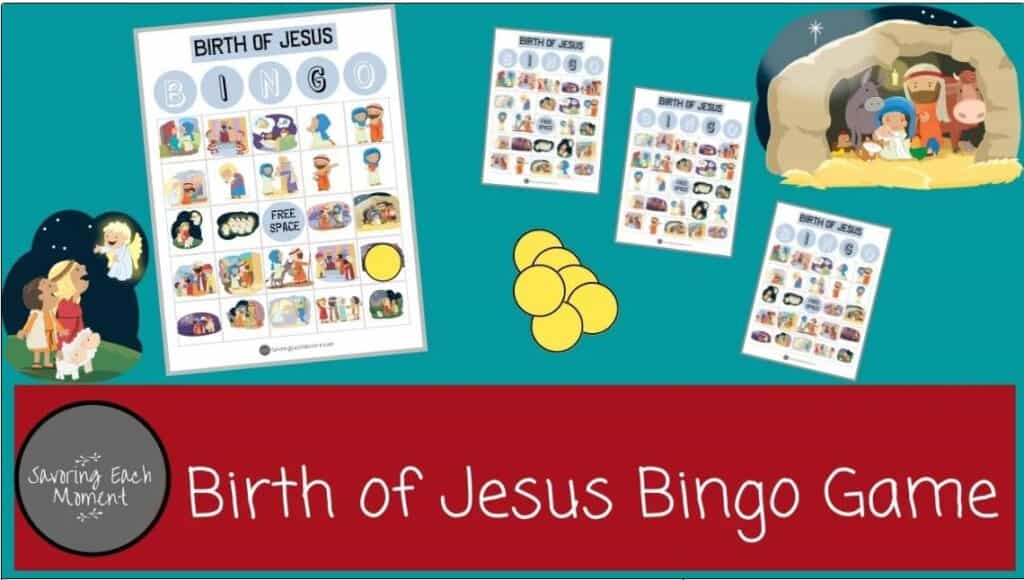 Noah's Ark Bible Bingo
This Noah's Ark Bible Bingo game is a great way to teach smaller kids about this well-known Bible story by matching the different animals that were brought onto the Ark before the flood.
Bible Story Bingo Game
The Bible Story Bingo is ideal for reinforcing Bible truth and stories.
It has images (and text) from Old Testament stories like Noah's Ark and the Firey Furnace to New Testament events like feeding the 5,000, the nativity, Jesus walking on water, and finally the death and resurrection of Jesus.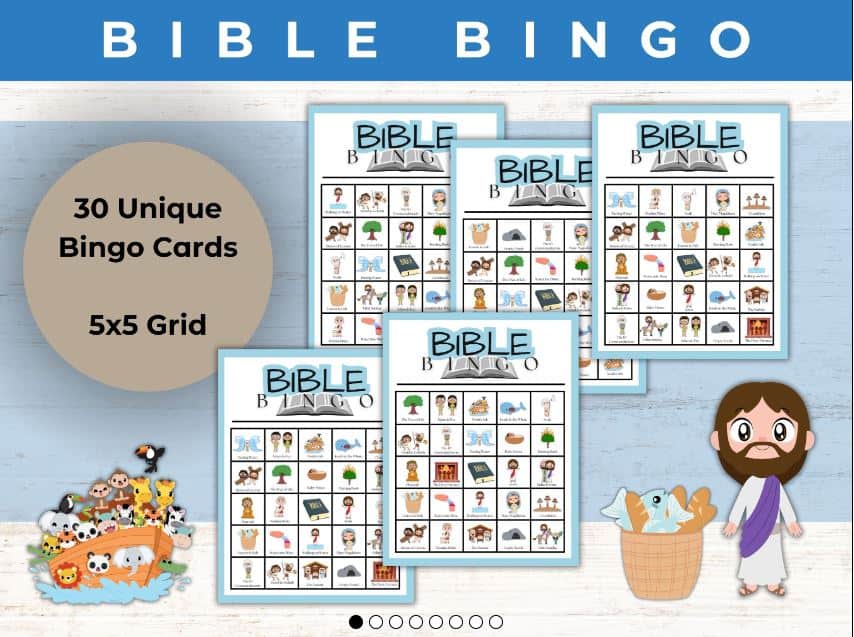 Fruits of the Spirit Bible Bingo
This Bingo game teaches the fruits of the spirit with all 9 listed as well as cute fruit. Consists of calling cards and 15 different Bingo cards.  Let's hide God's word in their hearts!  
Holiday-Themed Bible Bingo
In addition to those mentioned above, you can also find some fun games that have more of a holiday theme – while still keeping to the biblical concepts.
Other Bible Bingo game themes could include (but not limited to):
Each book of the Old Testament
Women of the Bible
The Prophets
Learning the Bible can sometimes feel like an arduous task but not when playing Bible Bingo! With these fun Bingo games, you're learning about scripture while also having some fun.
Learning through games can be a fun and enjoyable experience. When people are engaged in an enjoyable activity, they tend to be more motivated, focused, and open to learning. By infusing entertainment and gamification elements into the learning process, games can make the study of scripture more appealing and accessible to a wider audience.
The best part about this game is that it's easy to play, even if you don't know much about the Bible. It is also just so much fun because everyone is getting anxious and waiting for that first person to yell "BINGO" winning whatever prize is being offered.
Since there are so many themes, you can play this fun game over and over and never get bored with it – but will continue to learn Biblical concepts.
​Keep in mind, however, that games should not replace the more traditional methods of studying the Bible. They should be used as a supplement or an addition to a regular Bible study routine for both adults and for kids.
Also, be mindful of what you give them to mark off their squares. Coins might not be the best option since some toddlers still like to put things in their mouth!
Be sure to also check out these other Bible games to enhance your Bible study experience: