Do you want to have fun while learning bible concepts? If so, then bible crossword puzzles are the way to go. Crosswords are a popular pastime for many people, and they're especially great for those who enjoy word games.
These puzzles are becoming increasingly popular for both adults and children as a fun and challenging new way to learn biblical concepts and stories.
Crossword puzzles are a great way to  enhance Bible study time. They provide an engaging and interactive way to delve into the scriptures.
As individuals work through the clues and fill in the blanks, they are prompted to reflect on various aspects of the Bible, such as key figures, events, and teachings.
This process encourages active thinking and enhances memory retention, allowing participants to internalize and deepen their understanding of biblical concepts.
Additionally, Bible word puzzles foster a sense of fun and enjoyment, which can make Bible study sessions more appealing and sustainable over time. 
This post may contain affiliate links, please see our full disclosure for more information.
What is a Bible Crossword Puzzle
A Bible crossword puzzle is just like a regular crossword puzzle but the questions and clues relate to things from the Bible. And just like other puzzles, each one is designed around a particular theme. In this case, the theme is the Bible!
You'll find clues related to the lives of specific Bible characters, Bible stories, books of the Bible, as well as those relating to specific Bible verses.
The Bible verse clues and Bible theme words that appear on the puzzle cells provide a biblical context for each of the other words.
This not only helps people remember bible lessons, but it also provides an opportunity to explore bible concepts using different methods than traditional studying or memorizing scripture does.
Ultimately, crossword puzzles can serve as a valuable tool to enhance comprehension, retention, and overall enjoyment of the Bible, making them a fantastic addition to any Bible study session.
Bible Crossword Puzzle Themes
One of the really cool things about Bible crossword puzzles is that you can really never run out of ideas for them! There are so many Bible crossword puzzle themes to choose from.
Specific Bible Characters
Bible Stories
Books of the Bible
Animals in the Bible
Blessings
Old Testament
New Testament
Famous Verses and Quotes
Gratitude and Thanksgiving
Where Did This Happen
Who Said That
The Creation Story
These are just a handful of puzzle themes you'll find! If you write your own Bible studies, you can create a word search puzzle for pretty much any biblical topic or story.
And they can be tailored to both adults and to children depending on how many words and the length of the words being used in the puzzles.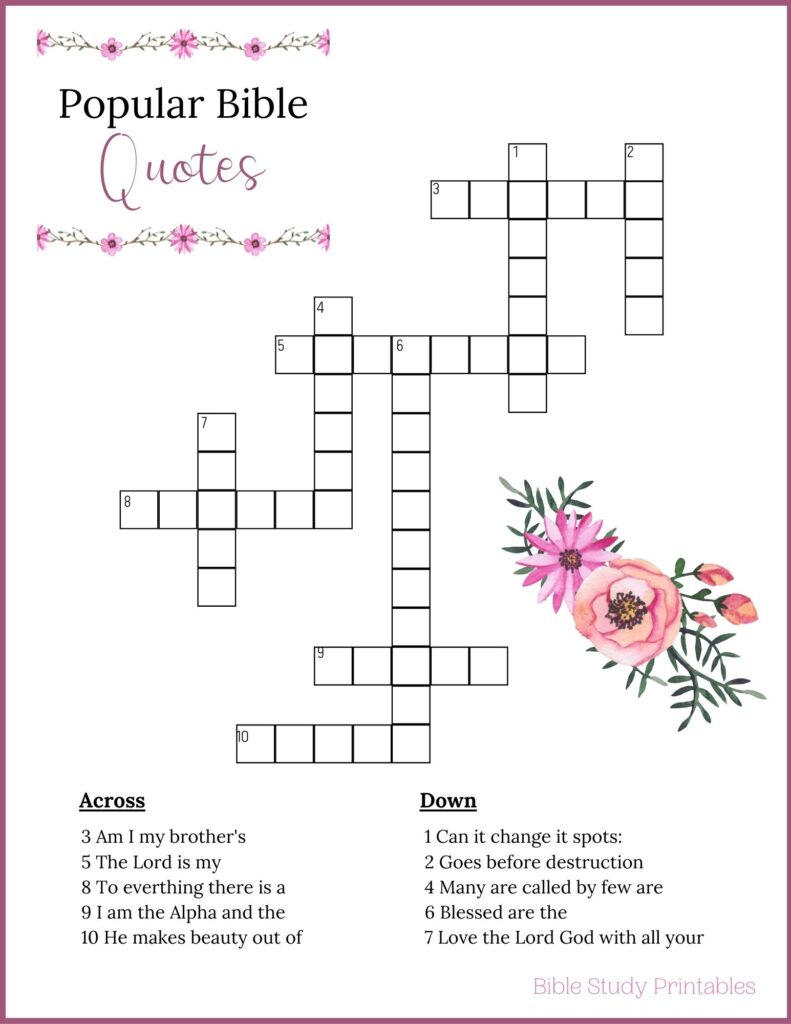 Below you will find links to a variety of free Bible crossword puzzles for adults that you can find online.
While these are all digital puzzles, most of these sites enable you to Bible crossword puzzle printable for each one they offer.
Bible Crossword Puzzles for Adults
Bible puzzles aren't just for children! Sometimes adults need a break from the standard way of studying God's
Word and need to find fun and creative ways to gain Bible knowledge. Along with Bible word puzzles, adults can also benefit from Bible trivia, Bible word search, and other fun Bible games. 
Crossword puzzles promote critical thinking and problem-solving skills. Adults are challenged to think analytically and make connections between the clues and the corresponding Bible passages.
This cognitive exercise stimulates their intellectual abilities, allowing for a more comprehensive understanding of the biblical message.
They offer an interactive and intellectually stimulating approach to Bible study.
They encourage critical thinking, aid in memory retention, and facilitate meaningful discussions, all while deepening their understanding and application of the Bible's teachings. Incorporating crossword puzzles into adult Bible study can make the experience more dynamic, engaging, and rewarding.
Of course, these creative avenues should be an addition to and not a replacement for a more indepth Bible study lesson.
Here are just a few places to find some fun Bible word puzzles geared towards adults.
Bible Crossword Puzzles for Youth
Bible Word Puzzles provide a fun and interactive way to engage children with the biblical text.
By solving crossword clues related to Bible stories, characters, and teachings, children are actively involved in the learning process, which helps them retain information more effectively.
This hands-on approach transforms Bible study into an enjoyable activity, making it more appealing and captivating for young minds.
Depending on the age, children will need a scaled-down version of these Bible crossword puzzles. Fortunately, there are many places on the Internet that make them for all age groups! You can even download your favorite Bible crossword puzzle printables!
Since kids today love to play games on their phones and computers, these games are actually going to help them while they are having fun.
I mean, seriously – sometimes getting kids to WANT to study the Bible can be a challenge. But with these Bible crossword puzzles, they won't even realize it is Bible study!
Create Your Own Bible Crossword Puzzles
If you really want to get creative and make something unique, why not try creating your own puzzles?
You can create ones for the different themes mentioned earlier – as well as make them easy or hard, depending on the age group you are making them for.
There are several free Crossword puzzle generators available online. Here are just a few of them:
Whether you're an avid Bible reader or a newbie, there are plenty of ways to make your study time more enjoyable.
One way is by using bible crossword puzzles that mix up the words in the verses for some added fun! With so many different types of them available, it's easy to find one that suits your particular interest and level of difficulty.
They can be completed at any pace and they provide hours of fun while also providing new insights into scripture.
By incorporating puzzles into their study routine, individuals can infuse a sense of playfulness and creativity into their exploration of the Word of God.
Ultimately, crossword puzzles offer an innovative approach to Bible study, facilitating both intellectual stimulation and spiritual growth.
What have been some of your favorite discoveries from doing bible crosswords?
Be sure to check out these Bible Study Games for even more Bible study fun!