Have you ever been to bible escape room games? If not, you are missing out! These games are a lot of fun and there is always a great time. They usually take about an hour to solve the puzzles and find the bible verse that unlocks the bible treasure chest. Escape rooms are becoming very popular in churches across America as it helps people get excited about bible verses they may have never heard before!
This post may contain affiliate links, please see our full disclosure for more information.
What is a Bible Escape Room Game
While you may have heard of Bible escape room games, you may be wondering exactly what they are.
A Bible escape room game is a fun way to help kids (and adults) learn the Bible characters and stories by using simple hints to help them solve riddles and puzzles. It truly makes learning the Bible fun and challenging – and who doesn't love a challenge!
How Do You Play Bible Escape Room Games
Bible escape room games can be used as bible-based games to teach people about the bible in a creative, fun, and challenging way. They can be used for bible study groups, reading clubs, Sunday schools, and even individual bible studies.
There are many different types of Bible escape room games and many different themes for them. But the basics of how to play them are the same. Biblical hints are used as clues. These clues can be utilized in all sorts of ways such as:
searching through books for a specific word/phrase
completing word searches using words that relate to Bible stories
filling out crossword puzzles based on biblical phrases
Usually, there are several sets of smaller games/challenges and the answers to them are needed to solve the final (larger) challenge at the end.
These puzzles and games can and should be tailored to specific age groups to ensure they aren't too hard or too easy and are age-appropriate for actually learning/retaining the Biblical concepts being taught.
And the best part is they can be played with large groups at church or with small groups in someone's home. And you don't need a bunch of fancy equipment to play! You can use what things you have at your disposal and get creative with offering the clues.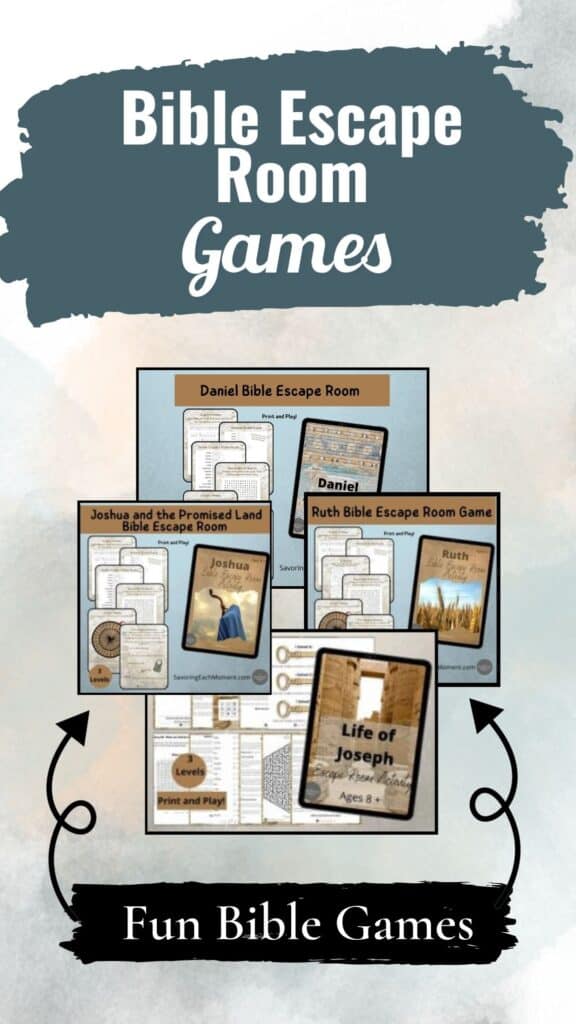 How to Make Your Own Bible Escape Room Game
The sky is the limit on creating your own fun and challenging Bible escape room games. Before you get started, be sure you are making the puzzles and games appropriate for the age of the children who will be participating. Remember, the goal is for them to learn, not be overwhelmed and frustrated!
Decide what theme or topic you want to build the challenge around. See the list of Bible-themed escape room ideas below.
Gather the supplies you will need.
Put your ideas to paper. A great place to start, if you've never done one of thee before, is a DIY Escape Room Guide. While these are usually not created specifically for Bible escape room games, you can use them as a template to put your own questions and puzzles.
Bible-Themed Escape Room Ideas
As I mentioned before, while the way to play is pretty much the same, Bible escape room games come with many different themes to based the questions and clues on.
One example is the Life of Joseph Bible Escape Room game (below): Explore the life of Joseph and experience this Biblical story of broken trusts, promises, and unwavering faith. The adventures of Joseph are combined with puzzles to create a family-friendly game – perfect for your youth group, family gathering, Bible class, or more. (Focuses on Genesis chapters 37-50)
Other Bible escape room game ideas include ones focused on
Virtual Bible Escape Room
The past year has seen more need for virtual game ideas. Not to worry! You can totally do a Bible escape room game virtually via Zoom or other video conferencing software.
Of course, in a virtual setting, you'll need to get a bit more creative since participants will be looking for clues in their own homes and not for clues that were specifically placed somewhere. Also, in a virtual setting, it might work out better for individuals instead of a team approach to solving the puzzles.
Try a Bible Escape Room Game Today
If you are wanting a fun and exciting new way to do Bible study – especially when teaching youth groups, Bible escape room games should definitely be in the plan! These are definitely not your typical Bible games and offer a challenging, yet fun way to dive into Scripture in a way that you'll remember it!