When diving into a new Bible study, it is essential to have good Bible study questions to answer to ensure you truly understand what was read.
Bible study questions can be helpful in helping to uncover deeper meanings and insights from the scriptures. They can help to guide the reader in understanding the context of a passage, as well as connecting the text to their own life.
By asking questions about the text, the reader can gain a better understanding of the purpose and message of the text, and apply it to their own life.
Questions can also help to open up new perspectives and create meaningful conversations with others.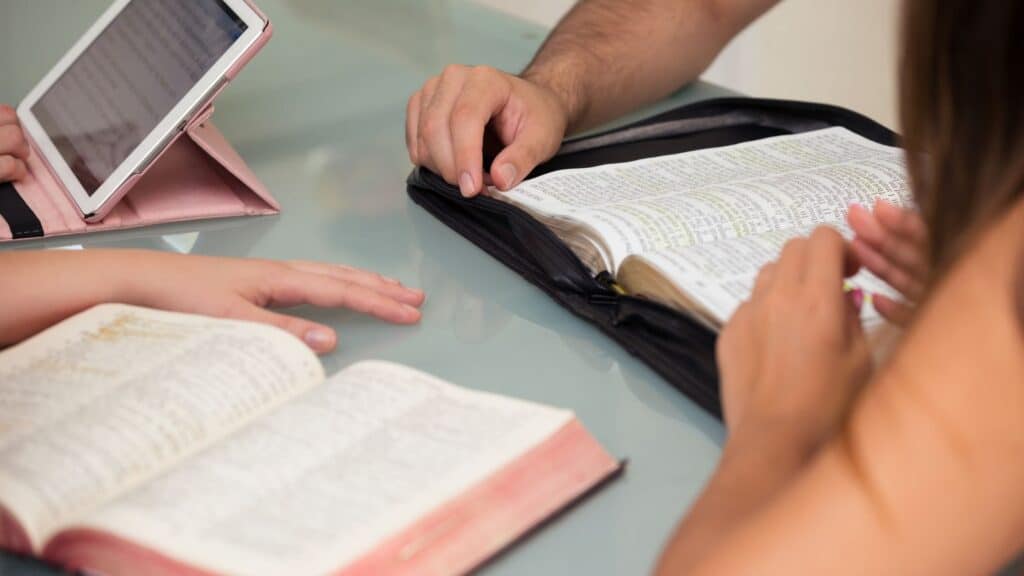 This post may contain affiliate links, please see our full disclosure for more information.
Types of Bible Study Questions
Below are different types of Bible study questions (different categories of questions). Keep in mind that some of these may overlap.
While there are some general Bible study questions that would work for any study,
Overview Bible Study Questions
Overview Bible study questions are just that: an overview of the story. This encompasses the basic who, what, when, and where information that is important to remember.
Who wrote the verse?
What was going on when the verse was written?
When was the passage written?
Where was the passage written?
In order to truly understand a story, these are somewhat important things to know about it!
Background/Context Bible Study Questions
These types of Bible study questions provide the background of the particular book or passage. This might include historical information to set the scene for what is being read.
When did was this passage written?
What was going on during the time this passage was written?
What significant event/situation was happening?
For example, a contextual question related to passages from Ephesians is knowing that Paul wrote them while he was in prison. Why is that important to know?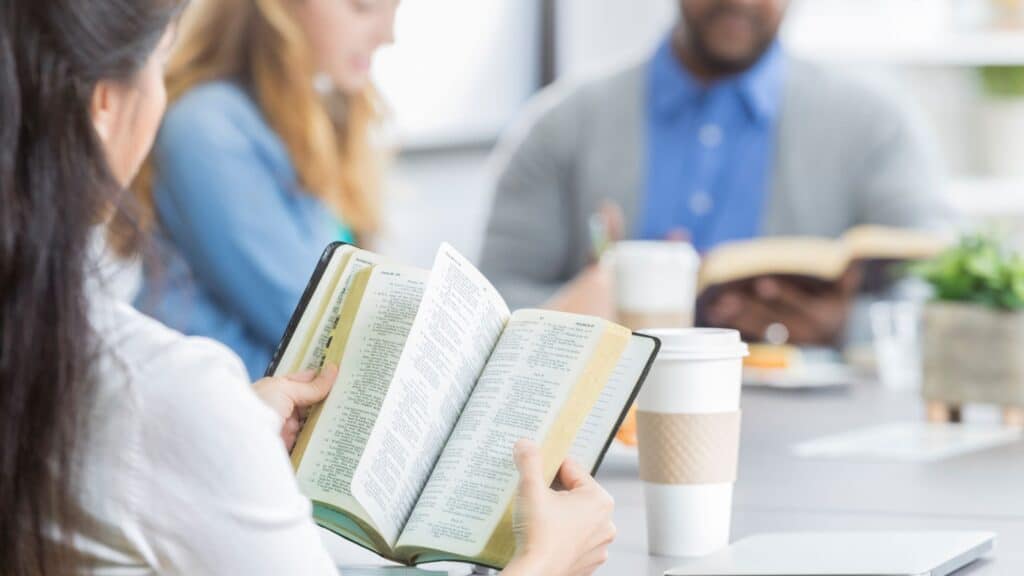 OT vs NT Bible Study Questions
These are questions that reference a verse that is mentioned (worded slightly differently) in both the Old Testament and the New Testament.
These types of questions help you to understand prophecy from the Old Testament being fulfilled in the New Testament. For example:
The virgin birth was prophesied in Isaiah 7:14 and was fulfilled in Luke 1:30-35.
They can also help you to understand certain concepts that are biblically important. For example:
God told Abraham that "through Isaac your offspring shall be named" in Genesis 21:12 (OT) and Romans 9:7 and Hebrews 11:18 (NT).
Bible Study Questions About Specific Words
Since the Bible was written so long ago, many verses include words that we just don't use today. In order to truly understand a passage or verse, it is crucial to understand the words being used in it.
Fortunately, most translations include a footnote when these types of words are used in a specific passage. The reference is usually from the Greek or Jewish meaning of the word.
Some questions you might ask about these words include:
What is the original language of this word?
What is the meaning of this word in the original language?
How does understanding the meaning of this word help you to better understand the passage/verse?
Character Bible Study Questions
As the name implies, these are questions that help someone better understand a particular Bible character.
Some questions might include:
What are their strengths/weaknesses?
How does their relationship with God affect their decisions?
Here are a couple of great resources to use in coming up with your own character study questions:
Chapter Bible Study Questions
Chapter study questions will focus on the entire chapter being read. It will help the person doing the study to better understand the story being told and the relevance/importance of this particular piece of the story.
What is the key message of this chapter?
Who are the primary characters in this chapter?
What was happening during this chapter?
Here are a couple of examples of chapter study questions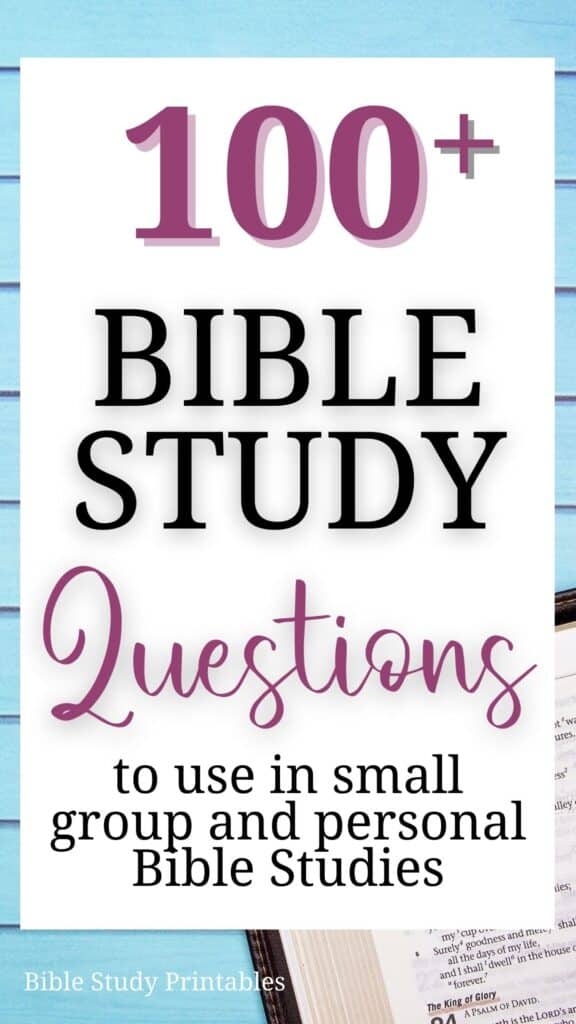 Topical Bible Study Questions
A topical study focuses on a particular topic instead of an entire chapter or character. Topical studies are a great way to dive deeper into understanding very important concepts from the Bible.
For example, a topical study on Confidence in Christ can help you understand what that means and how to live fully in the confidence that can only come from God.
How does what the Bible teaches about this topic compare to what the world/society teaches about it?
How can you better apply God's Word on this topic to your life?
Practical Application Bible Study Questions
Practical application study questions will most likely be a part of any of the above-mentioned types of questions. Why? Because understanding the Bible is only half the battle. The other half is learning how to apply scripture to your life.
For example, a practical application question for a study on God's Love might be:
In what areas do I struggle to love others as God loves them?
How can I better reflect God's Love to others who may have wronged me?
Be sure to check out this list of free printable Bible study worksheets to take an even deeper dive into your Bible study time! And if you love using an Ipad, be sure to also check out these digital Bible study journals!
Bible Study Question Resources
Whether you are writing your own Bible studies or just need some Bible study questions for a study you are doing on your own, here are a few places to find great questions to ask: