These printable Armor of God activites for Kids are a fun and interactive way to teach your little ones about the truths of Ephesians 6.
Through these printables you will teach them to put on the full armor of God, take up the shield of faith, strap on the belt of truth, put on the helmet of salvation and fight with the breastplate of righteousness.
What is the Armor of God?
Is it just simply a fun activity to do with your littles ones about being a Knight in shining armor or a princess? No. It is much more grandiose than that.
The armor of God passage comes from Ephesians 6:14-17 and reminds both adults and children alike that they are in spiritual battles on a daily basis. There are epic battles like none other!
This post may contain affiliate links, please see our full disclosure for more information.
Armor of God for Kids
This past summer my oldest son attended a VBS called "Keepers of the Kingdom" the entire VBS was focused on learning the Armor of God and how children can apply it to their lives.
He came home each night with crafts, songs, and lessons about putting on the armor of God and battling spiritual darkness.
Fast forward to October, which is three months after the VBS he attended, the kid is still singing the same VBS songs almost every morning and talking about the 7 parts of the armor of God.
He still references many of the printables and activities he made during that week. My point? The armor of God can be powerful for children and it should be our honor and privlege to teach it to them!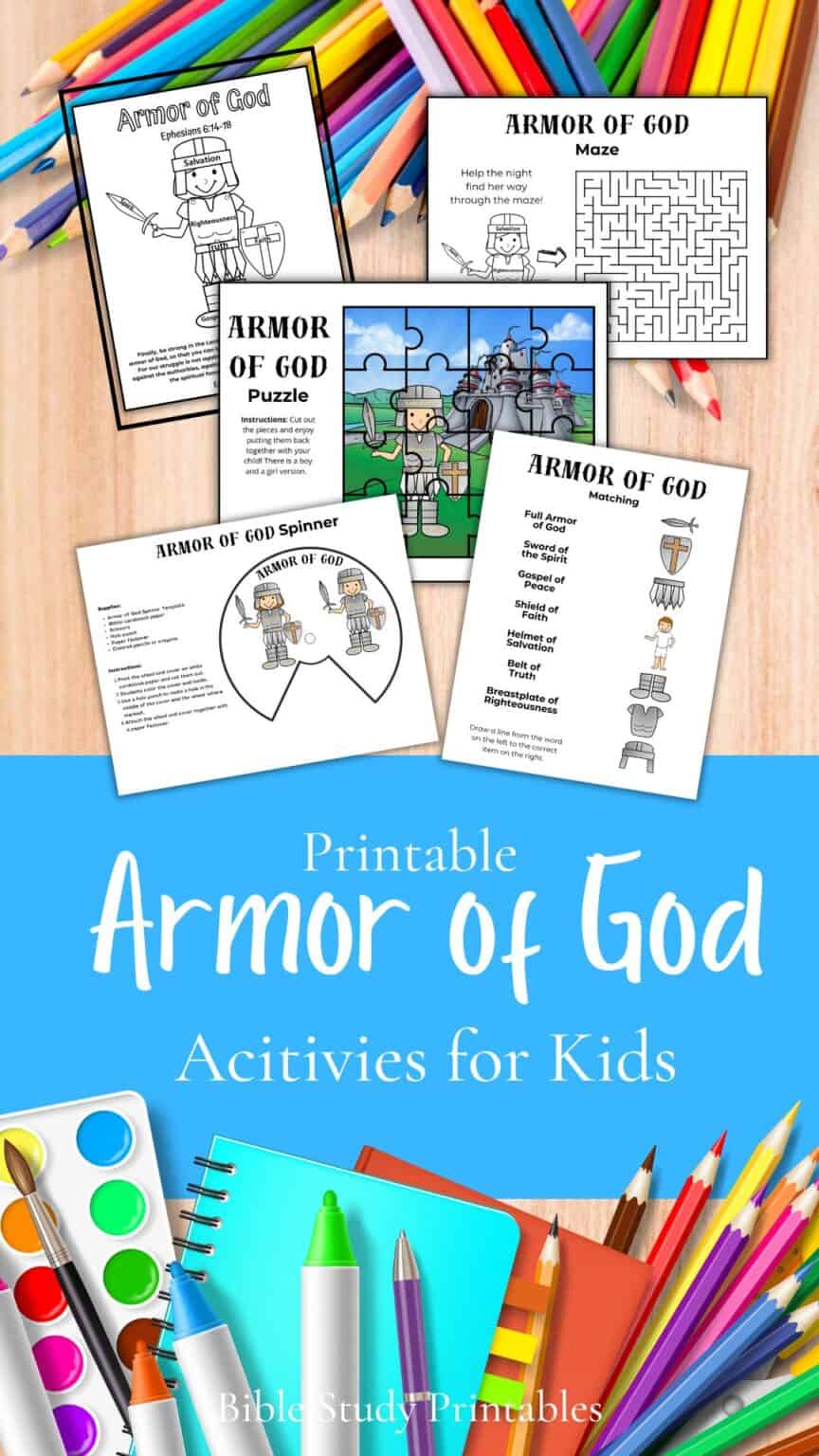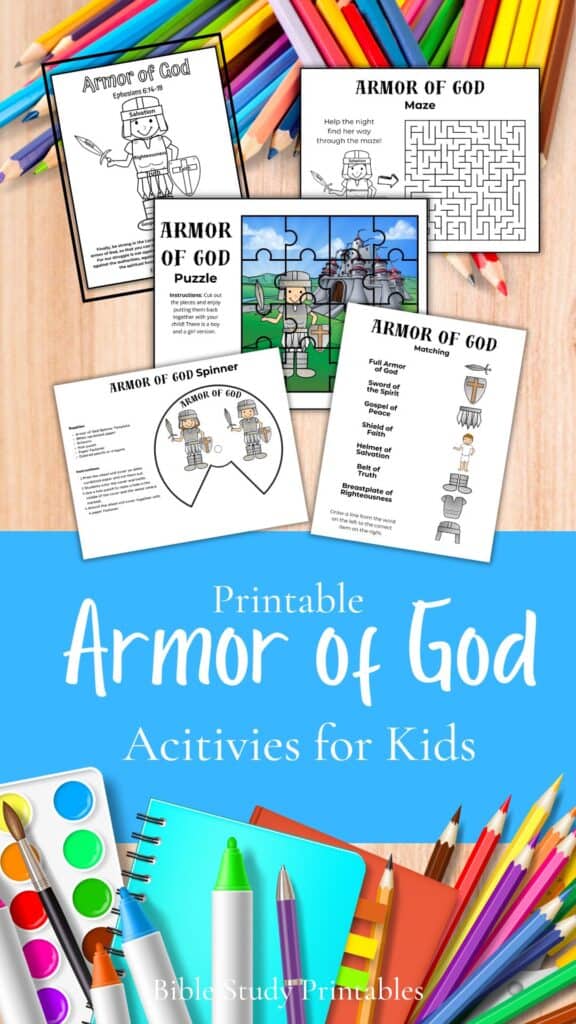 So how do we teach our young children about the armor of God? There are an abundance of resources online that can help, but which ones are the best and how do we use them appropriately?
The first thing we should do is turn to the original writer. Open the Word of God with your kids and read the armor of God passages right from scripture.
You don't need to water down the scripture or try to make it easier to understand. There will be somethings they get right away and some they don't, and that's okay!
Here are a couple other resources that you might enjoy in addition to the printables below.
Each part of the Armor of God helps guard us in as we engage in spiritual battle. The Armor of God Bible verses are in the Book of Ephesians.
Stand firm then, with the belt of truth buckled around your waist, with the breastplate of righteousness in place, and with your feet fitted with the readiness that comes from the gospel of peace. In addition to all this, take up the shield of faith, with which you can extinguish all the flaming arrows of the evil one. Take the helmet of salvation and the sword of the Spirit, which is the word of God. And pray in the Spirit on all occasions with all kinds of prayers and requests. With this in mind, be alert and always keep on praying for all the Lord's people. Ephesians 6:14-18 NIV
The Belt of Truth (vs 14)
The Breastplate of Righteousness (vs 14)
The Gospel of Peace (vs 15)
The Shield of Faith (vs 16)
The Helmet of Salvation (vs 17)
The Sword of the Spirit (vs 17)
Prayer (vs 18)
Armor of God Printables for Kids
Let's dive into the good stuff! These printables will aid you in teaching your children about the Armor of God passages and the spiritual forces of evil that we all face.
They are a great way to reinforce the teaching and you can even use them in Sunday School, VBS, homeschooling, or other events.
Ideas for using the Armor of God Printables
Make them a part of your curriculum or lesson plan
Add them to a free art area in your classroom or Sunday School
Use them in a dramatic play area with princess and knight dress-up
Place the cards on your kitchen table for review each morning.
If you are ready to download these free armor of God activities and their upgrades, you can find them below!
Printable Armor of God Coloring Pages
These coloring pages are perfect for Sunday School settings and for younger children.
There are two free coloring pages and then if you want to dive deeper, you can grab the entire pack, which includes a separate coloring page for the different pieces of armor along with some addtional pages.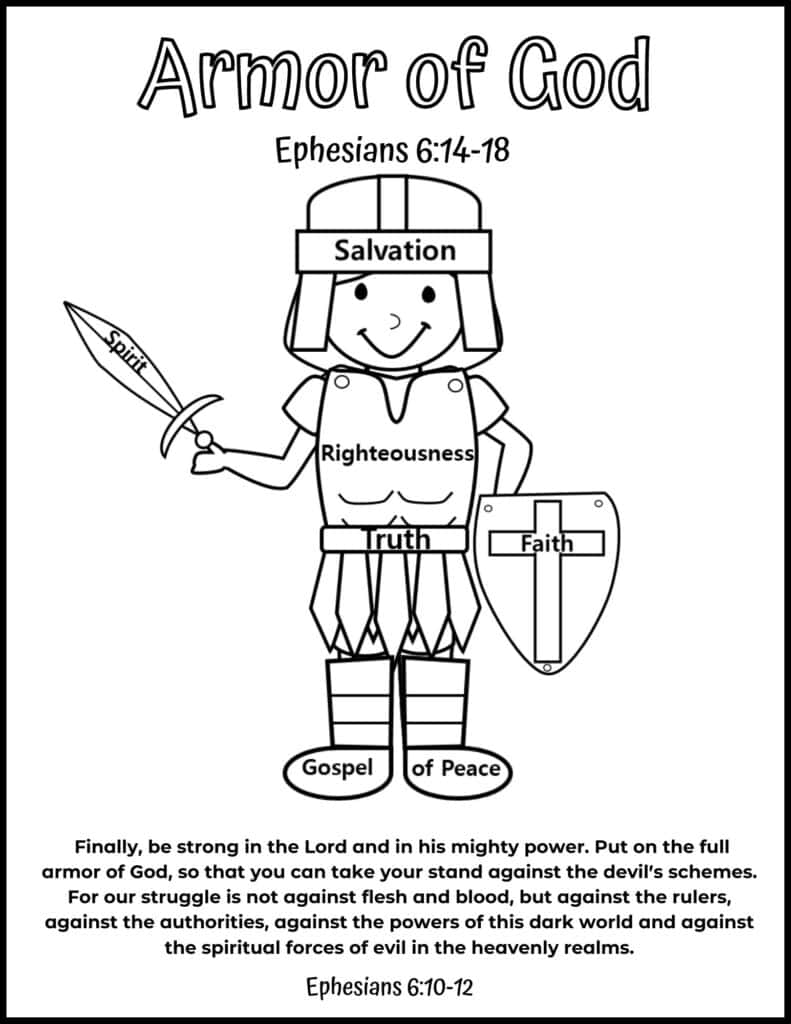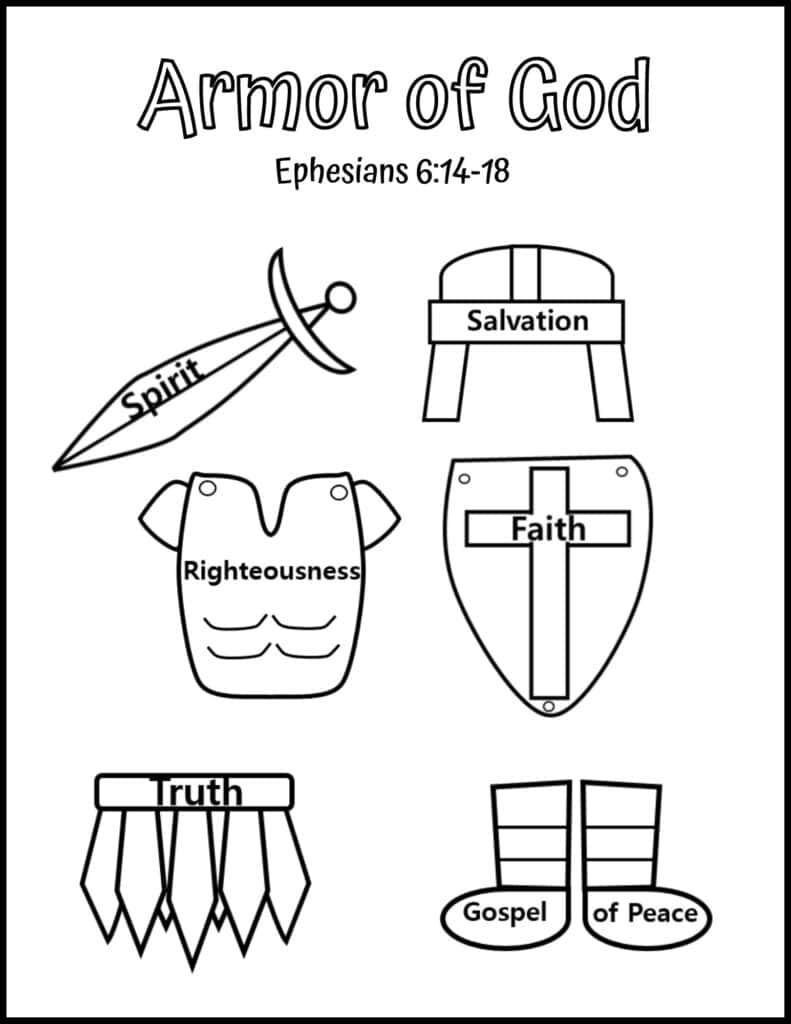 Printable Armor of God Activity Book
There are more advanced activity sheets in the activity book like the word search, which containns all the difference pieces of amor.
It's a fun way to review a lesson with an older Sunday School class.
There are also younger activities like some simple coloring pages and a matching game for each piece of armor which is a fun activity for preschoolers.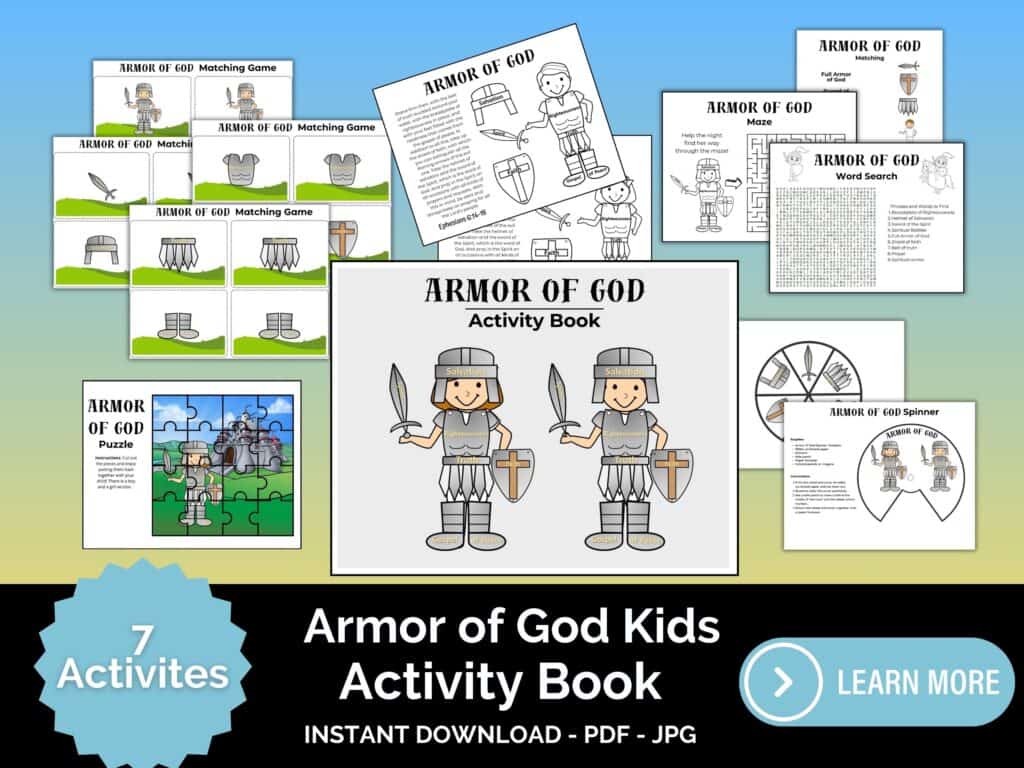 Printable Armor of God Cards
These beautiful Armor of God memory cards are a perfect edition to your families morning routine!
As you start learning Ephesians 6 in more detail these card will take you step-by-step through the armor of God and Ephesians 6:14-16.
Are you looking for other resources on the Armor of God. Here are a few from my fellow friends online!
May the holy spirit guide you as you teach these spiritual truths to your little ones.
As scary as it is to think about, there are spirital battles all around us, and we should want our children to be prepared for whatever they may face.
Learning the Armor of God, is just one small way to prepare yourself and your family whatever spiritual battle they may face.
Finally, be strong in the Lord and in his mighty power. Put on the full armor of God, so that you can take your stand against the devil's schemes. Ephesians 6:10-11 NIV
How will you be using these Armor of God printables?! I'd love to hear how you like them!