Have you heard of the SOAP Bible study method?
The SOAP Bible Study Method is a popular method of studying the Bible. But what does it mean to use this method? We will go over each letter and discuss how you can apply it to your own studies!
If you are looking for a simple, yet powerful way to study God's Word, then you will definitely want to try out this method!
This post may contain affiliate links, please see our full disclosure for more information.
What is the SOAP Bible Study Method
The SOAP Bible study method is one of the more popular ways to dive into scripture because it helps you to really meditate on what you are reading so you remember it.
This method is broken down into four steps (described below) that
What Does SOAP Mean
So, what exactly does "SOAP" mean? Each letter of the name represents one of the four steps for this method of studying the Bible.
S – Scripture
O – Observation
A – Application
P – Prayer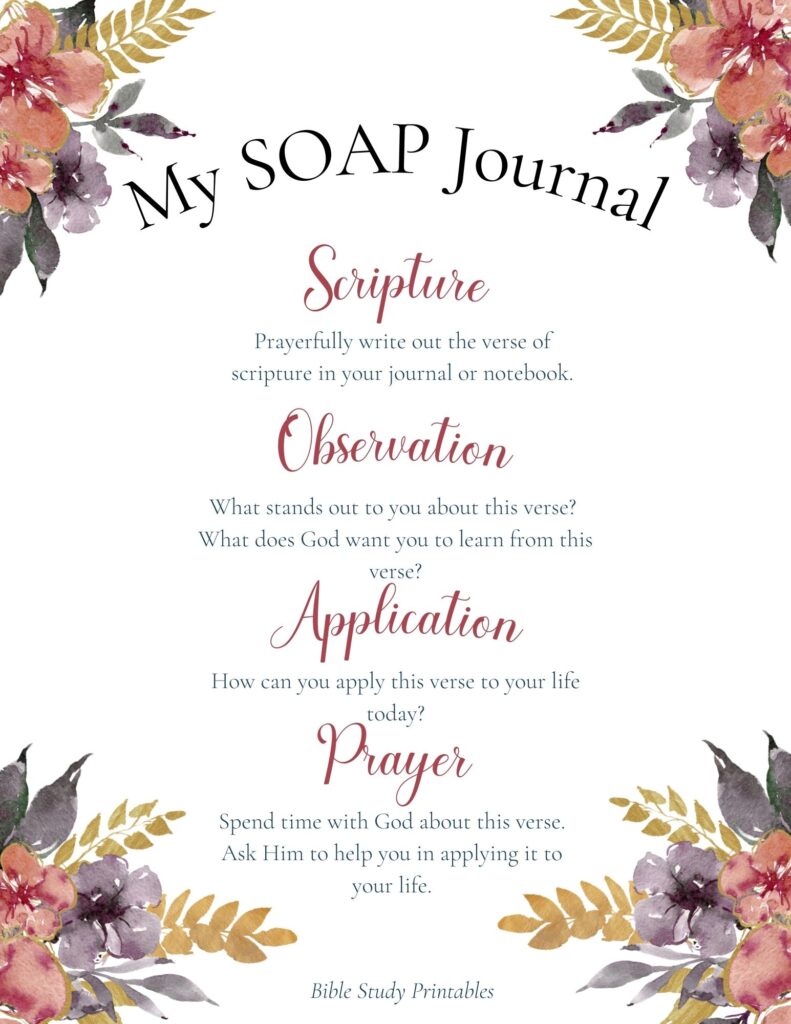 ---
How to Do a SOAP Bible Study
The SOAP Bible study method is actually quite simple to do and can be accomplished in less than 15 minutes each day.
Monthly Bible reading plans or scripture writing plans are perfect for doing a SOAP method because they give you a new verse for each day of the month.
S – Scripture
The first step of the SOAP method is to simply write out the verse of scripture in your journal or notebook.
This might seem like such a simple step but we are more likely to remember something that we have physically written out (and not just spoke out loud).
O – Observation
Once you've written out the verse, the next step is to make some observations about the verse.
What stands out to you about this verse?
What is the context of this verse where it is written in scripture?
Write out any other questions you may have about this verse so you can meditate on it further.
A – Application
The third step of the SOAP method is Application.
As you meditate on each verse, ask yourself these questions:
How can I apply this verse to my life?
What is God trying to tell me?
Is there an area of my life that I need to change as a result of reading this verse?
In my opinion, this step is the whole point of studying God's word! We can read scripture all day long but if we don't understand how to apply it to our life, what was the point?
Write down the answers to these questions and any other questions the Holy Spirit puts on your heart!
P – Prayer
The final step of the SOAP method is to talk to God about what you have read.
Whatever He revealed to you during your study time, ask Him for guidance and wisdom as you apply what you have learned.
Confess any sins that were brought to light and ask for forgiveness. Ask for grace and wisdom as you set out to make the necessary changes in your life as a result of what was revealed to you today!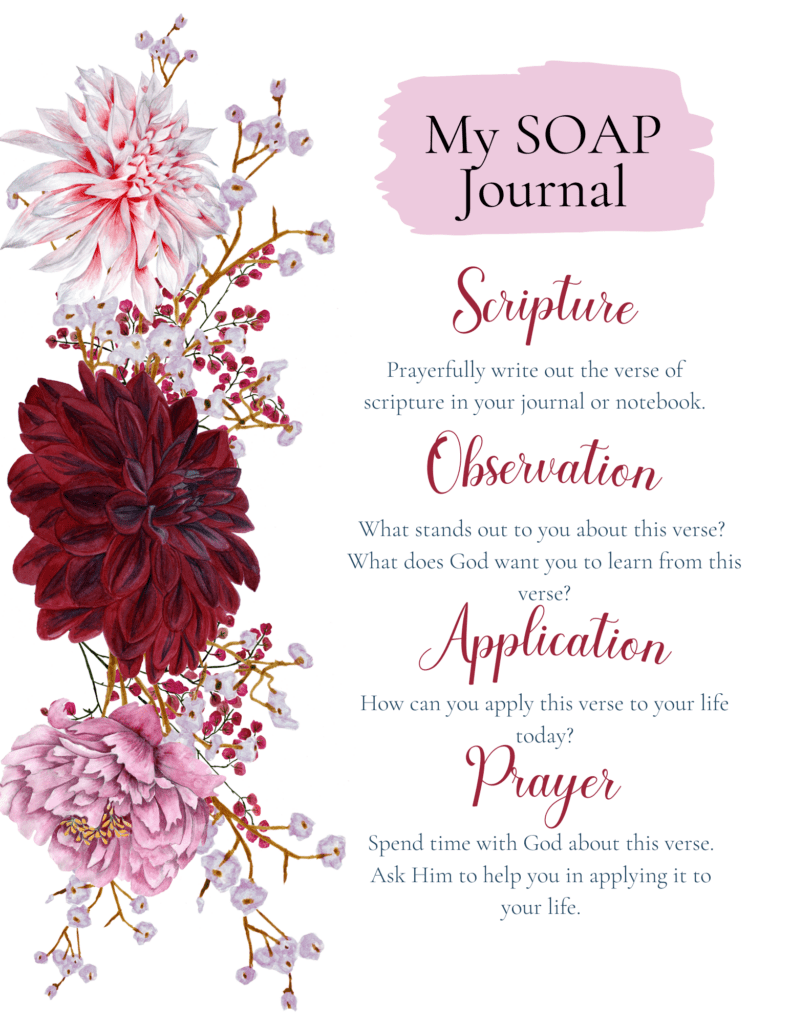 SOAP Bible Study Method Example
If you are doing the SOAP method for the first time, it might help to have an actual example of what it looks like in action.
Here is a SOAP method example for the verse Romans 15:13 NIV:
SCRIPTURE
May the God of hope fill you will all joy and peace as you trust in Him, so that you may overflow with hope by the power of the Holy Spirit
OBSERVATION
God doesn't want us to live in hopelessness or despair. He wants us to trust Him with our future and rest in the peace that He will work it all out for our good.
APPLICATION
I know that no matter what the world may look like today (all the chaos and doom), God doesn't want me to live with a spirit of fear. He wants me to always be filled with joy and peace – and to always be hopeful for the future.
No matter what I see on the news or social media, no matter what the world seems to be telling me, God is with me and everything is going to be just fine.
PRAYER
Father, thank you for being the God of hope! Lord, fill me with your spirit so I can approach each day with joy and a peaceful heart. I know that you are in control and no amount of worry on my part will change the plan that you have already worked out for my life. Amen!
SOAP Bible Study Resources
If you are new to doing a SOAP Bible study, you might want to check out some of these helpful resources to help you get started.
SOAP Devotional Journal
If you don't already have a notebook, you can find some really nice SOAP devotional journals that were created specifically for doing this type of study!
SOAP Bible Study Printables
If you prefer to print out your own worksheets, you might enjoy using these SOAP Bible study printables. Print them out each day and add them to your journal or notebook.
If you're looking to dig deeper into scripture and want a great way to study that doesn't require hours of reading, then the SOAP Bible Study Method is for you.
It takes as little as 15 minutes per day, which is perfect for anyone with a busy schedule. But even though it doesn't require hours of time, this type of study is a powerful way to dive into scripture each day!