A printable gratitude journal is one creative, yet simple way to help children be intentional about finding things to be thankful for every day!
As parents, we truly want our kids to have a heart of gratitude and thankfulness. Gratitude has been shown to be one of the most important core values in life.
Teaching kids gratitude is one of the best things you can do for their mental and physical health. In fact, they'll reap benefits from it their whole lives long!
These printable gratitude journal prompts will help make gratitude a regular part of your child's daily routine.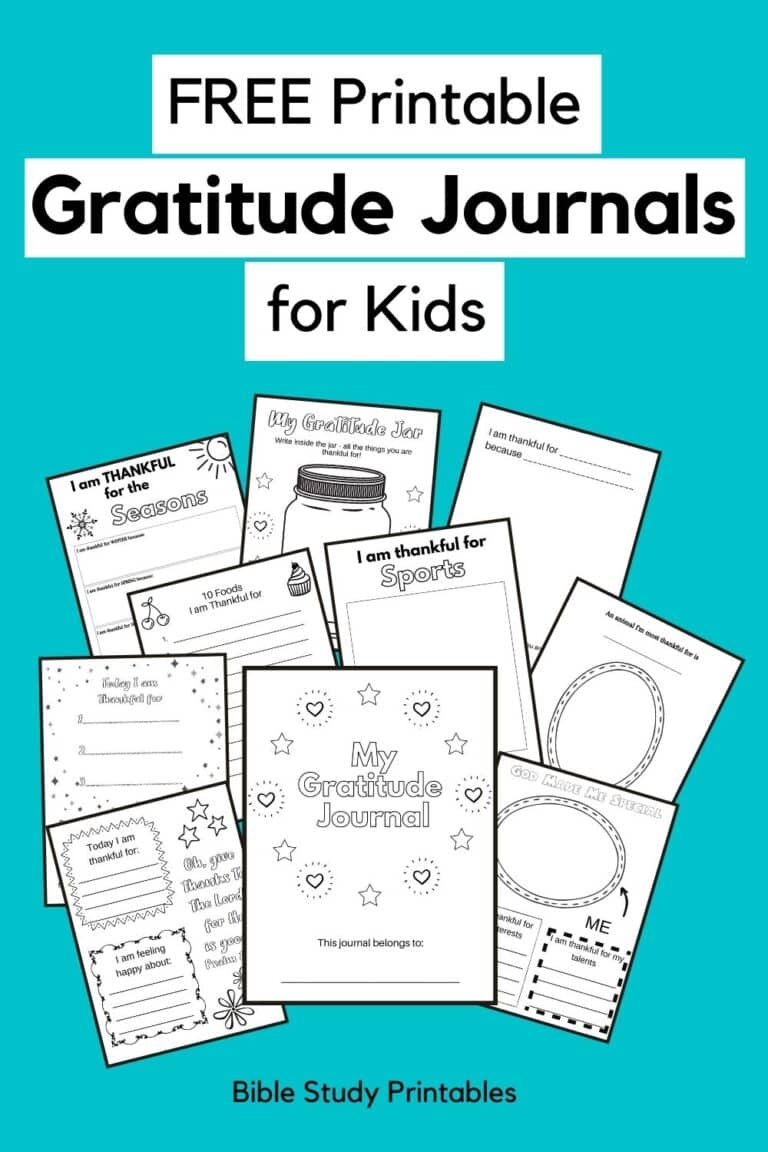 This post may contain affiliate links, please see our full disclosure for more information.
Printable Gratitude Journal for Kids
Do you feel like a constant battle rages on with your kids? It's so hard to get them to do anything, let alone something that might actually be good for them. Sometimes they can't be just so darn stubborn! But it doesn't have to be this way.
Kids often lack a sense of gratitude simply because they don't understand and appreciate all they do have. A gratitude journal is a perfect solution to this problem!
What is a printable gratitude journal?
A gratitude journal is basically a workbook or notebook full of activities and worksheets centered around the topic of gratitude where you write down things that you are grateful for each day.
I've created these free printable gratitude journal templates for kids to make it super simple for them to think of things to be grateful for each day!
Each page has a different gratitude activity, along with black and white elements they can color. I added the coloring element because most kids really enjoy coloring. And the key to getting them to engage in the activity is for them to enjoy doing it!
There are prompts or questions to use as guidelines on how to write about something that you are grateful for on that particular day. These printable gratitude journal templates for kids also include lines at the bottom of each page where they can draw a picture or just write about what it feels like to be grateful overall.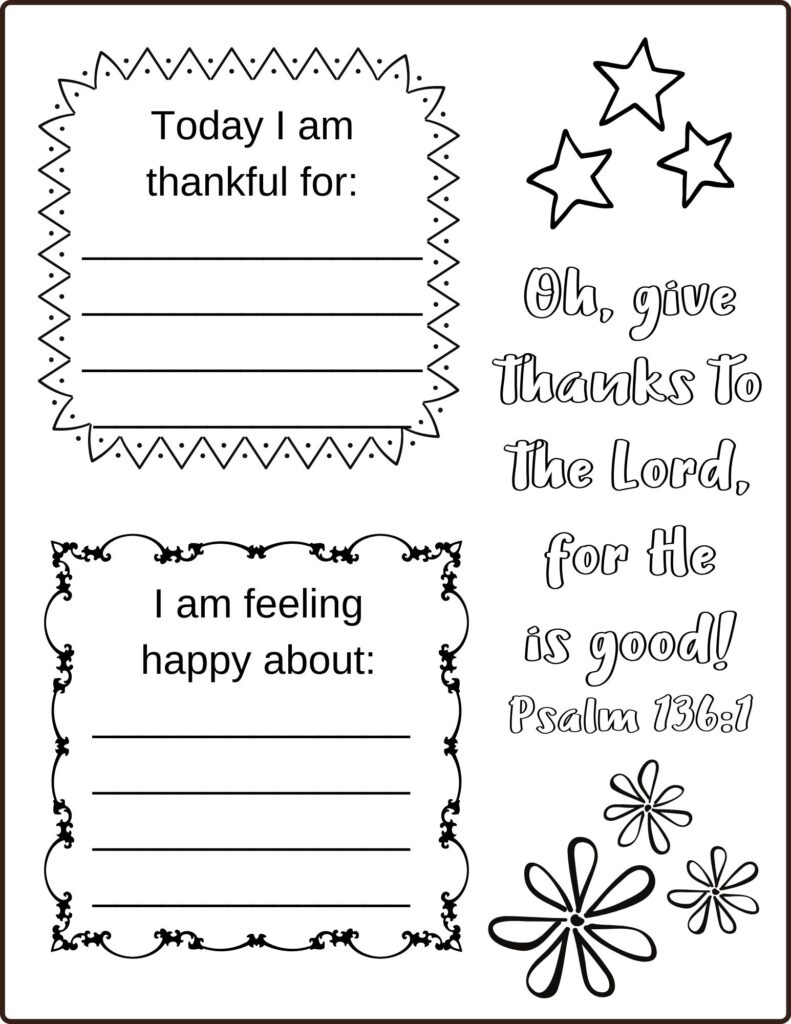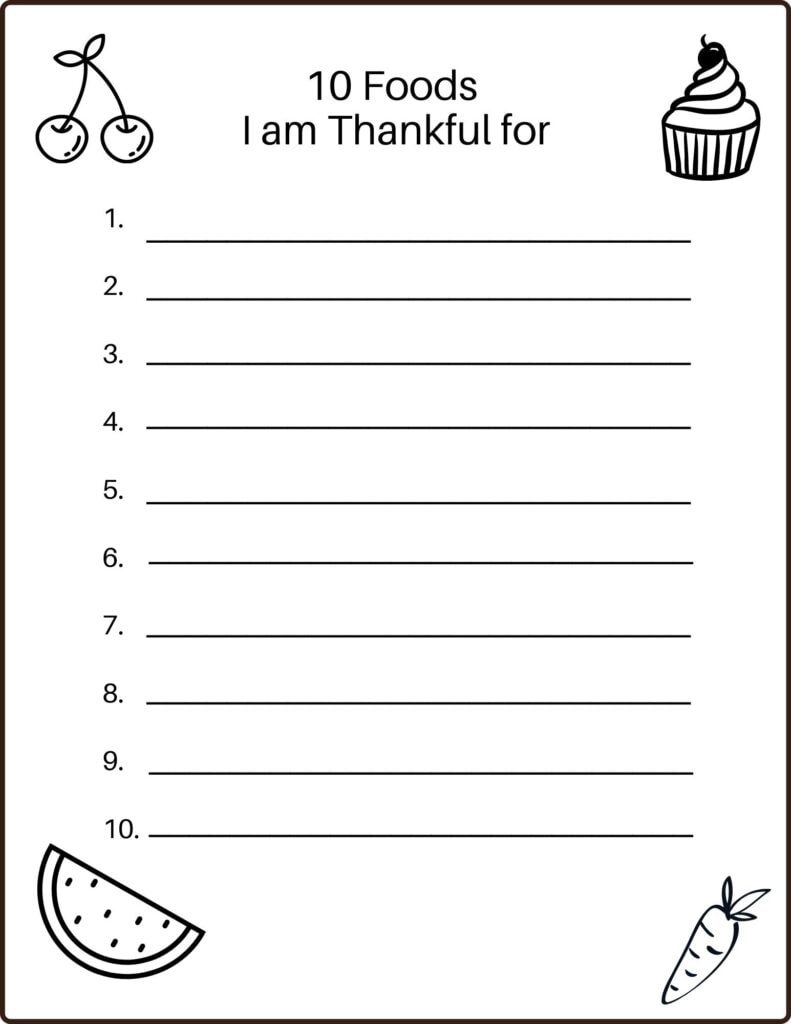 Download the full 10-page free printable gratitude journal for kids pdf below!
The individual gratitude activities will encourage them to truly appreciate all the things they have instead of taking them for granted.
Gratitude exercises teach children about what they have and why it's important- not only does this help build character, but also helps with body image issues and depression later in life because children will see themselves as worthy individuals who deserve positive
More Printable Gratitude Journals for Kids
There are lots of different styles and varieties of printable gratitude journals for kids to choose from. Each one has different worksheets and activities for you to find the ones that your kids will enjoy most.
Gratitude Journal Prompts for Kids
In addition to the gratitude worksheets and activities, you may also want to encourage them to use gratitude writing prompts
Gratitude is such an important concept for children to learn. A heart of gratitude will help kids have a positive outlook on life and cultivate joy in the midst of hardship.
One of the best ways to teach kids about being grateful is by using a printable gratitude journal with prompts for them to write down what they are thankful for each day.
By writing in their journals every night, your child will start seeing how he or she has been blessed by so many things throughout the day and learn valuable lessons about being happy with what we already have rather than always wanting more stuff.
For more gratitude ideas for kids, be sure to also check out our Gratitude Jar Ideas and Printables.