Have you heard of a gratitude jar?
Gratitude jars are a fun and creative way to help you or your family cultivate a heart of gratitude all throughout the year!
There are times in life when we feel overwhelmed and like the world is against us. It's hard to stay positive and grateful when things don't work out as planned, but it doesn't have to be that way!
Cultivating gratitude can be easier than you think. All it takes is a gratitude jar to help remind us of all the wonderful things we do have to be thankful for each day!
These gratitude jar printables will help you get started!
This post may contain affiliate links, please see our full disclosure for more information.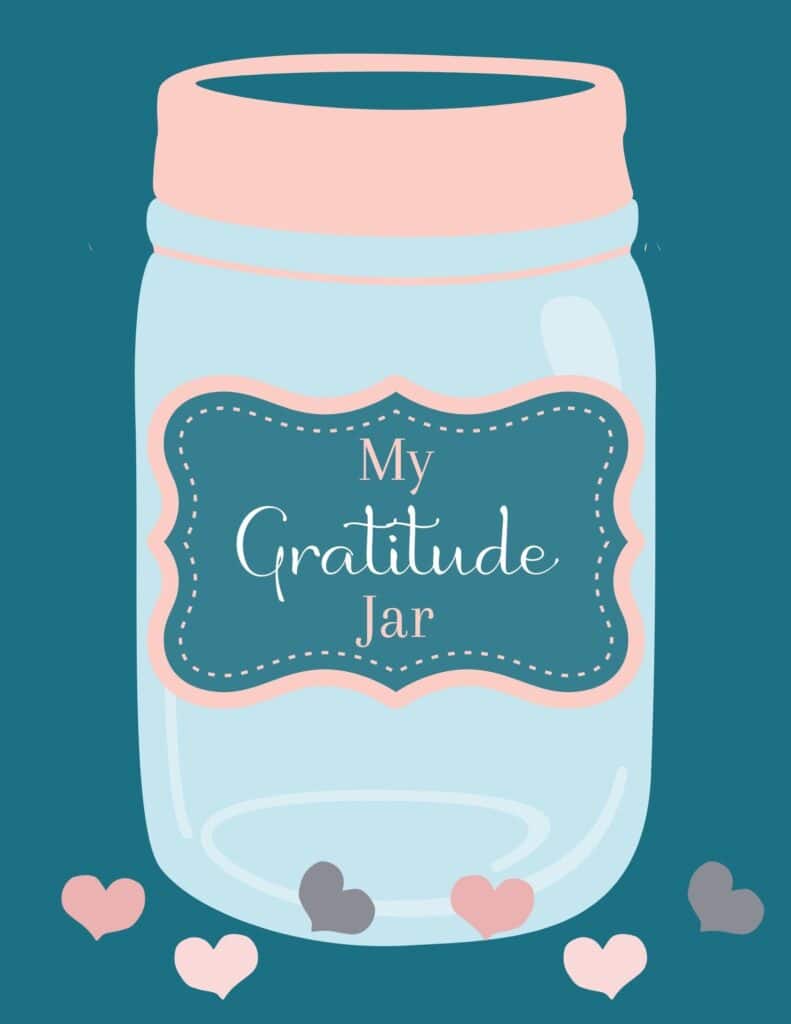 What is a Gratitude Jar
A gratitude jar is nothing fancy. Seriously! Just find a mason jar or other type of container around the house to use. To make it more fun, use ribbon or other embellishments to decorate it so it stands out and looks pretty sitting on the counter.
Making a gratitude jar is a great activity to get the kids interested in the idea and want to use it!
What Do You Put in a Gratitude Jar?
You can use any type of writing medium that you find around the house such as paper or card stock.
Of course, you can get fancy and print decorative ones to use – or do it the simple way with just torn strips of paper!
There are actually two ways to go about using a Gratitude Jar:
Fill it with slips of paper that have things already written on them. Then pull on paper out each day and meditate on it or use it in an activity.
Start with an empty jar. Each day, write down one thing you are grateful for and put it in the jar. You can also write down something positive that happened to you that day.
I, personally, prefer the 2nd one because it forces you to find something to be grateful for every single day!
Gratitude Jar Quotes
Cultivating a heart of gratitude is truly the key to happiness! When we can focus more on the wonderful things God has done or provided for us, the other stuff just doesn't seem so important or dire.
Here are some gratitude quotes to meditate on and help you to understand just how powerful a heart of gratitude can be.
The real gift of gratitude is that the more grateful you are, the more present you become. – Robert Holden
Showing gratitude is one of the simplest yet most powerful things humans can do for each other. – Randy Pausch
Gratitude is a currency that we can mint for ourselves and spend without fear of bankruptcy. – Fred De Witt Van Amburgh
Gratitude turns what we have into enough. – Anonymous
Gratitude Jar Worksheets
In addition to having a physical gratitude jar sitting on the counter, gratitude jar worksheets are the perfect activity for children to help them cultivate an attitude of gratitude.
Children can often get focused on the wrong things. Including a gratitude jar activity into their daily journaling can help them to really think hard about the things they truly have to be grateful and thankful for.
Gratitude jar worksheets and activities can be used as part of a gratitude journal or as a stand-alone activity in which children write down the different things they are grateful and thankful for.
Here are a few more places to find some different gratitude jar printables such as worksheets, activities, and labels.
Gratitude Jar Worksheets and Activities
Printable Gratitude Jar Slips and Labels
Help your family in cultivating a heart of gratitude by starting a gratitude jar today! You can put it on the kitchen counter where they will see it every day and serve as a reminder to think of something to be thankful for.
Be sure to also use the gratitude jar printables to help your kids be more mindful about all the things they have to be grateful for in their lives.
For more help with teaching kids about gratitude, be sure to also read: