Have you been feeling a little lost in your prayer life lately? Do you have trouble figuring out what to pray about each day throughout the month? Or maybe you are wanting to start being more intentional and consistent with your prayers but not sure where to start.
Prayer calendars are the perfect answer! Instead of wondering what to pray about or who to pray for each day, these calendars provide you very specific people to pray for or things to pray about. And by the end of the month, you will have prayed for things and people way beyond your own family and friends.
This post may contain affiliate links, please see our full disclosure for more information.
What is a Prayer Calendar
A prayer calendar is a tool to make sure you have everyone and everything covered in your prayers each month. You can use prayer calendars to cover any type of person or event that you want to keep in your thoughts, and they are a great way to stay on top of your prayers.
Every day there will be an entry for the date with instructions about what to cover in your prayers for that day. For example, Mondays might be the day to pray over your spouse. But on Tuesday, you should make sure to pray for your co-workers.
Some prayer calendars include a guiding verse for each day's prayer. Others simply list a person or thing to pray over.
How Do You Make a Prayer Calendar
Making a prayer calendar is easy. You can download a blank monthly calendar template from the Internet and simply fill it in with a different focus for each day of the month.
You can also draw them out on a page in your prayer journal.
Prayer Calendar Templates
Save some time with these free printable prayer calendar templates. Simply print them out and add your own prayer focus topics or people to them each month!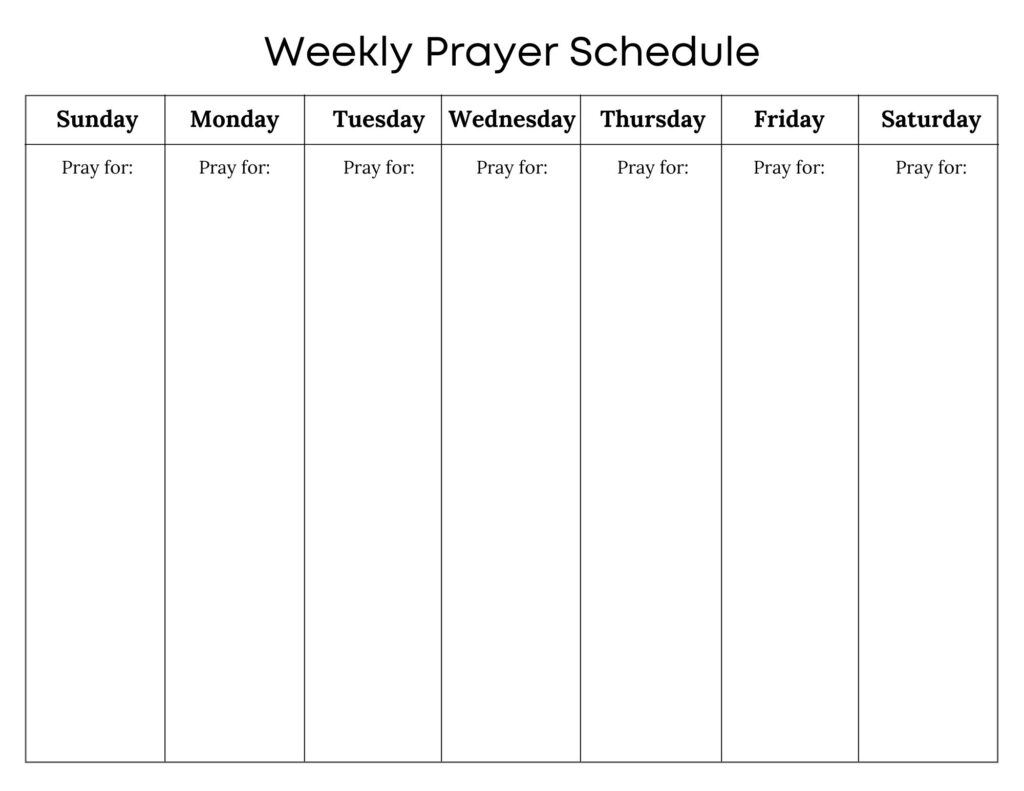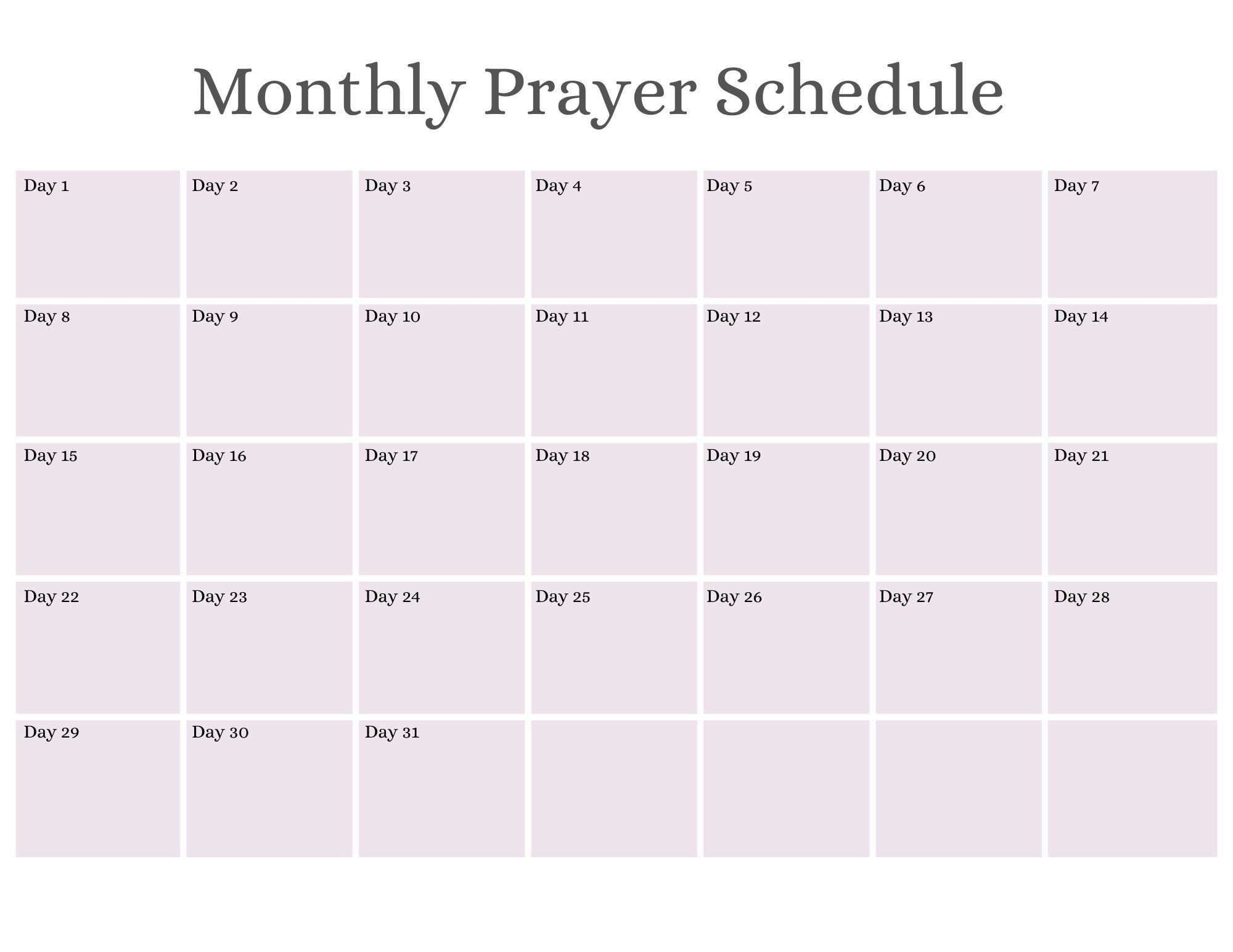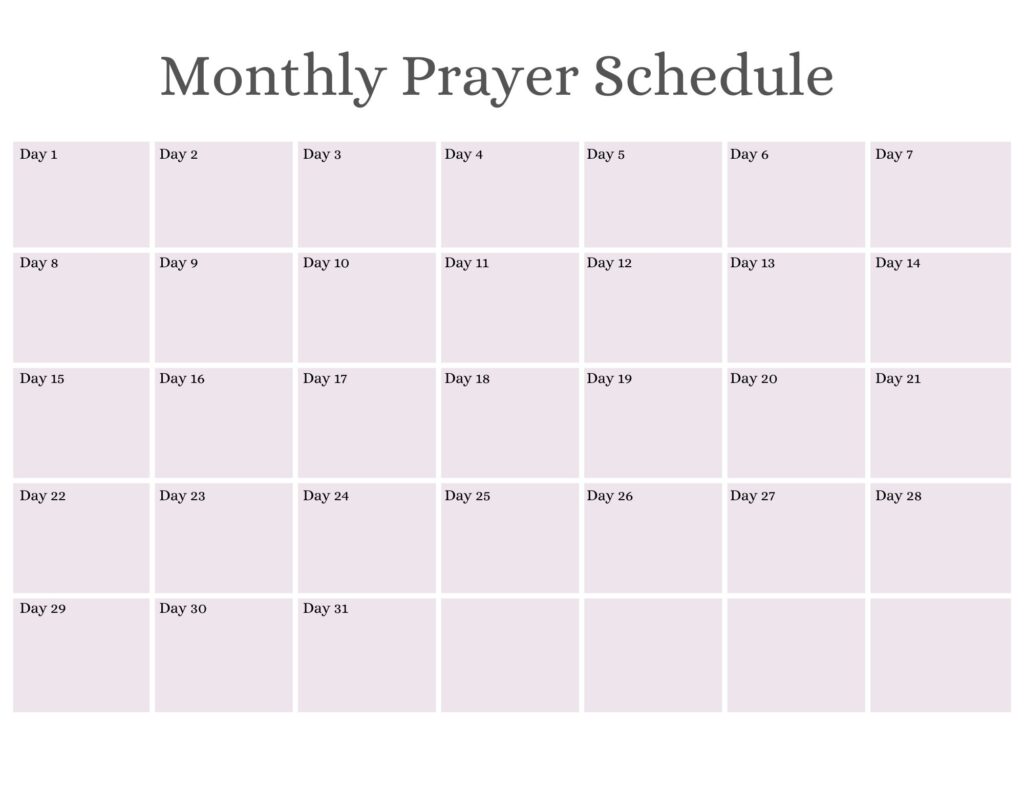 ---
Printable Monthly Prayer Calendars
I prefer to find done-for-you prayer calendar templates that already have the prayer focus written onto them. Doing it this way ensures you don't miss anyone and can also give you some additional prayer ideas that you may not have thought of.
Many of the printable prayer calendars also have verses to meditate on each day that related to the person or thing you are praying over.
You can download this free monthly prayer calendar pdf (courtesy of Kingdom Bloggers).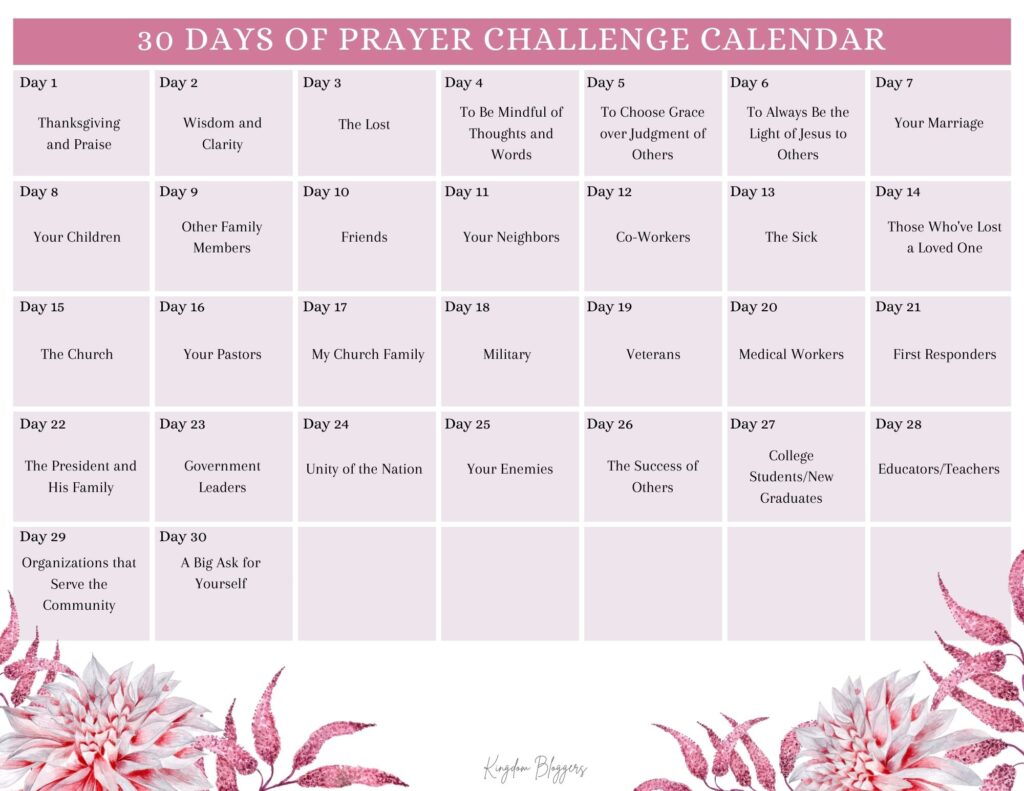 As I mentioned before, there are many different styles of prayer calendars so you need to find the one that best fits your needs. Here are few places that have some different ones that you can check out:
And if you'd like to have a guided prayer journey for the entire year, be sure to check out this 365-day prayer guide from Pray With Confidence!
---
A prayer calendar is a great way to ensure that you are praying for everyone and not forgetting anyone throughout the month and the year. It's also a good reminder of the intentions we've set so that they don't fall through the cracks or get lost in our busy schedules. What better time than now to start using one?
Be sure to also checkout these additional prayer resources: