Have you heard of the Romans Road to Salvation?
Salvation is a free gift from God that is available to everyone, and it is God's will that "all come to repentance." (2 Peter 3:9 MEV)
All people are born into sin, but through Jesus Christ, the consequences of sin are no longer counted in God's eyes.
While this is a powerful revelation, many believers struggle to express God's plan of rescue and salvation to those who are lost.
The Romans Road to Salvation is a witnessing tool that helps believers point another person toward the Gospel and helps those seeking the Lord better understand sin and how God has laid out a path for salvation from sin.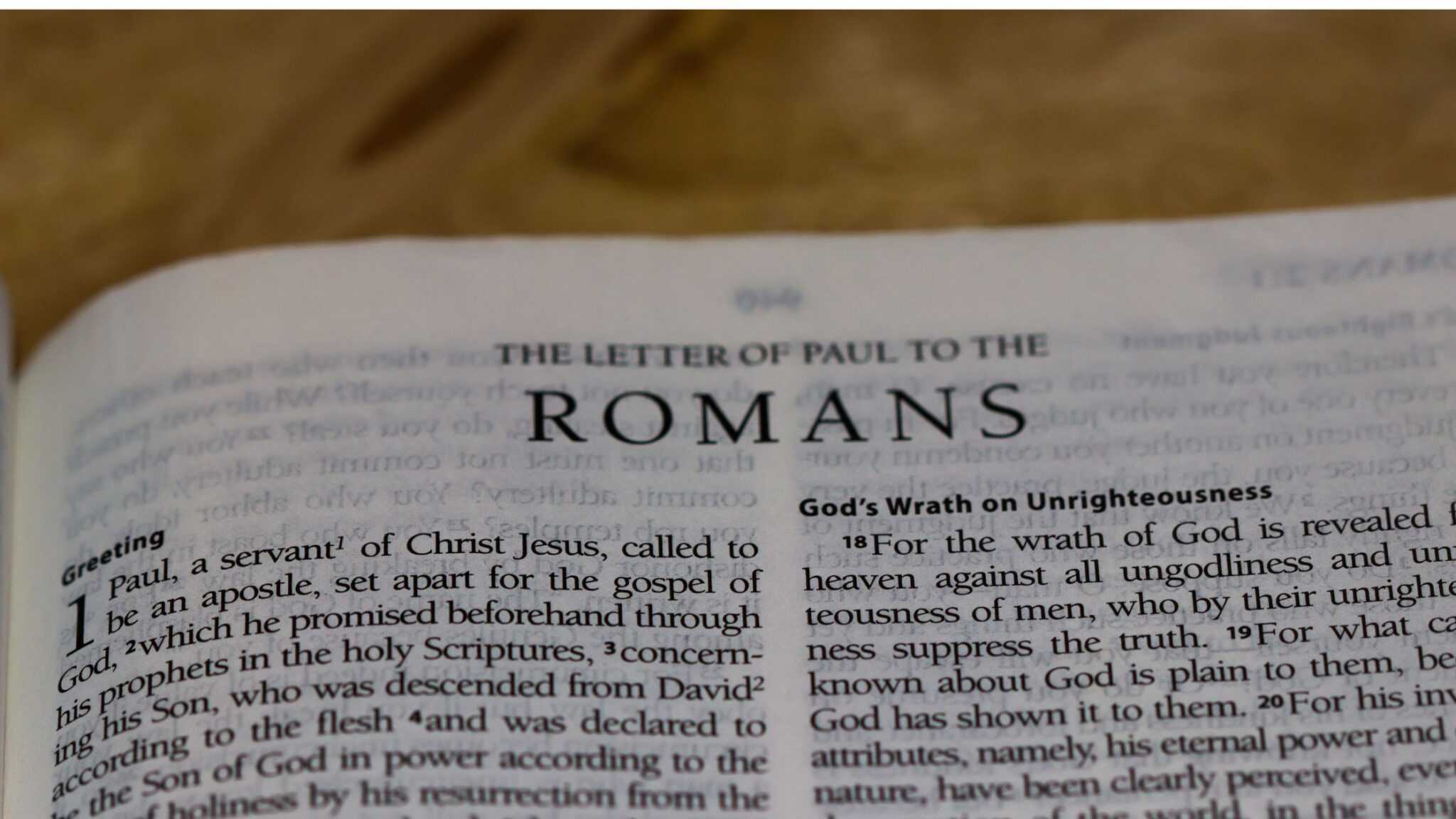 This post may contain affiliate links, please see our full disclosure for more information.
What is the Meaning of the Romans Road to Salvation?
The "Romans Road to Salvation" has a simple yet powerful method of presenting the good news of salvation using the book of Romans to lead people through God's plan of reconciling people to Himself.
Starting with "…all have sinned…" (Romans 3:23), a new believer, or even an unsaved person, will find a deeper understanding of how the gift of eternal life is given by God through Christ Jesus even though "…the wages of sin is death…" (Romans 6:23b MEV)
The love of God for people becomes clear through His merciful rescue plan.
The book of Romans is often referred to as the "Genesis" of the New Testament.
When the Apostle Paul wrote this letter to the church in Rome, Jews and Gentiles who followed Christ often had conflict stemming from their different backgrounds of faith.
They needed a clear word from the Lord about God's plan of salvation that would unite their focus as the early church expanded.
The Romans Road to Salvation is a selection of Bible verses that are waypoints on the "road."
Each verse teaches us an important principle about how sinful mankind is redeemed by a sinless Savior:
Waypoint 1: Romans 3:23 – "All have sinned…"
Waypoint 2: Romans 6:23 – "The wages of sin is death…"
Waypoint 3: Romans 5:8 – "God demonstrates His love…"
Waypoint 4: Romans 10:9-10 – "Confess… and believe…"
Waypoint 5: Romans 8:1 – "No condemnation for those in Christ Jesus…"
Romans Road to Salvation Explained
The point of teaching about the salvation of Jesus Christ using the Romans Road method is to condense and simplify spiritual concepts that can be confusing or hard to understand for people with little or no experience with or knowledge of God's Word.
How is salvation a gift of eternal life? How can you die a physical death, but still be alive?
Why is Jesus Christ the only way to salvation? What are the results of salvation?
People without a background of faith or those young in their faith often have a lot of difficult questions that believers can feel inadequate to answer.
Here's how the Romans Road to Salvation presents the good news of Christ:
"All Have Sinned" – Romans 3:23
"For all have sinned and come short of the glory of God…" (MEV)
All of humanity is trapped in the darkness of sin and "the whole world lies under the sway of the wicked one." (1 John 5:19 NJKV)
Although someone may be a "good person", the fact is that sin entered God's perfect world through the choice of humankind.
Just like natural genetics are passed on through generations, so, too sin forever altered the spiritual condition of all people and is passed on through all generations.
The darkness and depravity of sin and its effect on people separated mankind from God's glory because God is holy and, "God is light and in Him is no darkness at all." (1 John 1:5)
Romans 3:10-18 explains in more detail that, "there is none righteous [and] no one who seeks after God." (MEV)
"For the Wages of Sin is Death" – Romans 6:23
"For the wages of sin is death, but the gift of God is eternal life through Jesus Christ our Lord." (MEV)
Because God is holy and light, no unholiness or darkness can coexist with Him.
While all people are born into sin, there comes a point in each person's life where the actions of sin become a conscious choice. That is when the consequences of sin lead to death.
The gift of God is that Christ Jesus, His own Son, came to earth to experience the human condition and the temptation to sin.
While on earth, He never once chose to indulge in sin and instead lived a sinless life before He suffered and died thereby permanently cancelling the debt of sin for all who believe in Him. (John 3:16)
"God demonstrates His own love" – Romans 5:8
"But God demonstrates His own love toward us, in that while we were yet sinners, Christ died for us." (MEV)
Plenty of people would die in the place of a "good person", but Christ Jesus died while all of humanity was still trapped in sin.
He knew that many would never accept His free gift of salvation—and He knew many would.
The life and death of Jesus Christ was God's mercy to people so there would be the opportunity to reconcile sinful people to His holiness through the death of His sinless Son.
God gave to sinful mankind the most precious gift He could because His wrath was never against people. God's wrath, which He poured out on Jesus, was always toward sin.
According to Isaiah 53:5, "He was wounded for our transgressions, He was bruised for our iniquities; the chastisement of our peace was upon Him…" (MEV)
And:
"[God] shall see of the anguish of His soul and be satisfied. By His knowledge My righteous servant shall justify the many, for He shall bear their iniquities." (Isaiah 53:11, MEV)
"Confess…and believe" – Romans 10:9-10
"…if you confess with your mouth the Lord Jesus and believe in your heart that God has raised Him from the dead, you will be saved. For with the heart one believes unto righteousness, and with the mouth confession is made unto salvation." (NKJV)
It is crucial when sharing about sin and the good news of Christ that people are made aware that they can make a new choice—to surrender their lives to the Lord Jesus Christ.
Salvation isn't a complicated process. "Confess… and believe…" the Apostle Paul wrote.
Romans 10:13 says that anyone who calls on the name of the Lord will be saved. This life-changing gift of God is free and without qualification or condition.
1 John 1:9 says, "If we confess our sins, He is faithful and just to forgive us our sins and to cleanse us from all unrighteousness." (ESV)
The consequences of sin lead to death—physical death and spiritual death—but salvation through Jesus Christ washes everyone who believes clean from those stains.
"No condemnation for those in Christ Jesus" – Romans 8:1
"There is therefore now no condemnation for those who are in Christ Jesus." (ESV)
God, in His mercy and love, always had a plan in place to rescue people from the snare of sin.
Although the wages of sin is death, once a person submits their life to God by confessing Jesus Christ is Lord and believing that God raised Him from the dead, the condemnation of death is lifted.
This release from the penalty of death is what sets people free spiritually, but that freedom through Christ continues into the rest of their lives as well—the mind, the soul, and even the body.
Through Christ, sin is no longer counted as a death penalty since God sees only the blood of His beloved Son when He looks as those who have receive the free gift of salvation.
While physical death comes to all people, being alive through Christ means that once the body fails, the spirit will continue to live in the glory of God for eternity.
That is the good news of Christ Jesus that the world needs to hear!
Romans Road to Salvation Printable
Printable activities are a great way to help kids learn about biblical concepts and to memorize scripture.
Below are a few different Road to Romans Salvation Printables that you are free to download and use.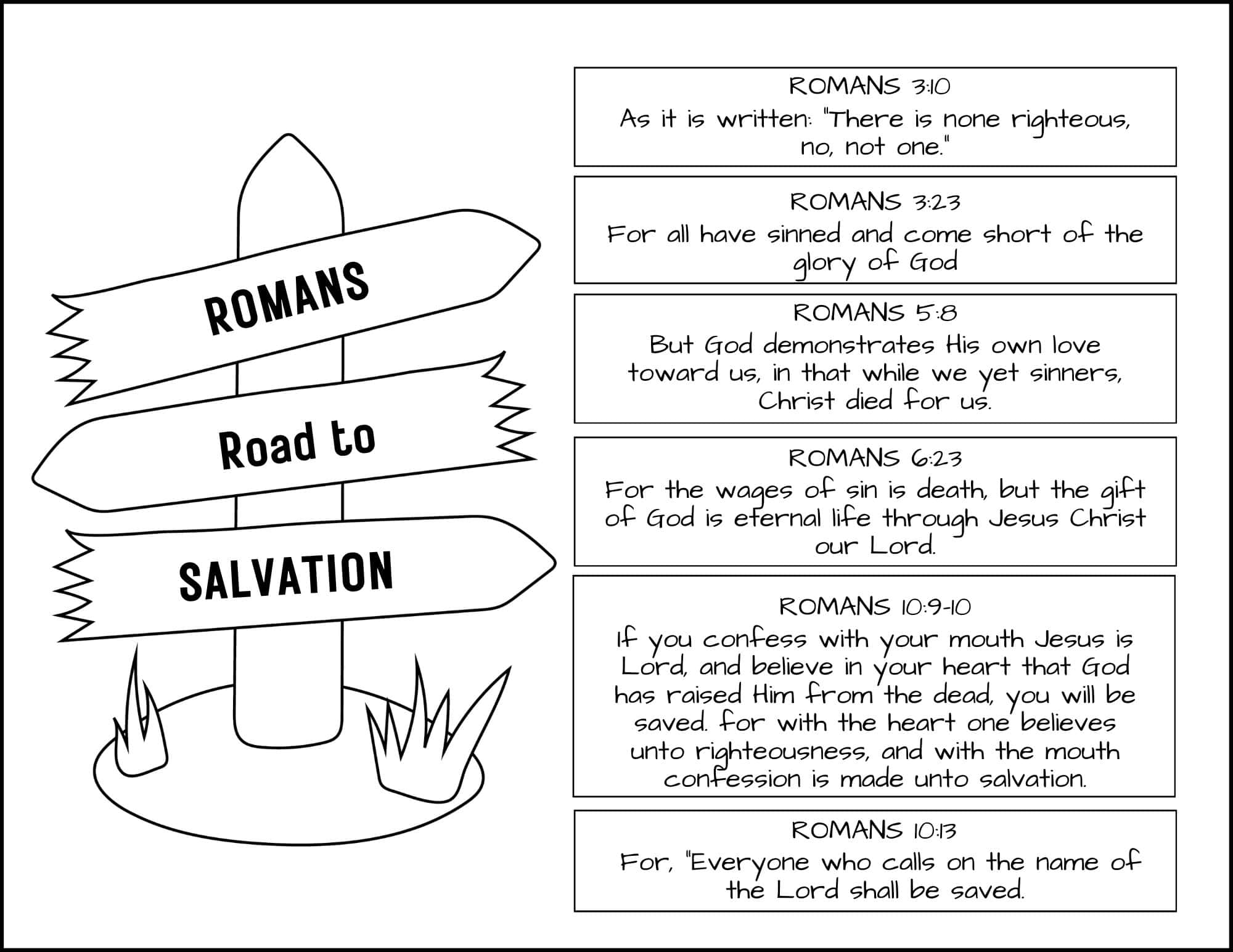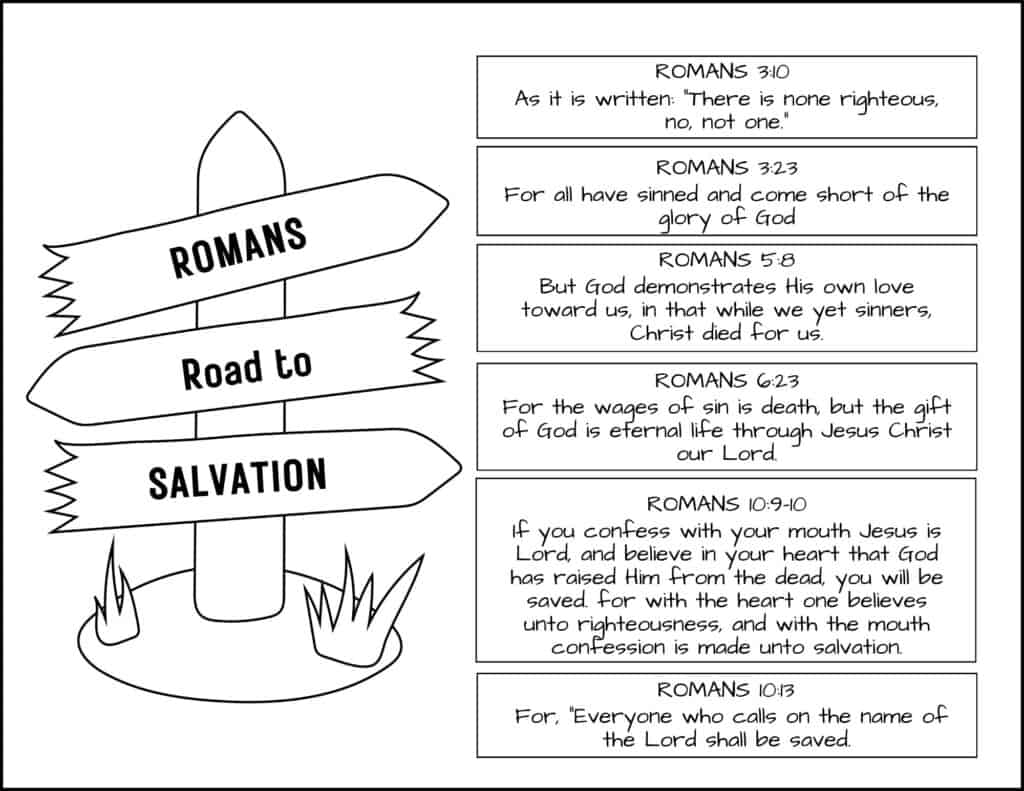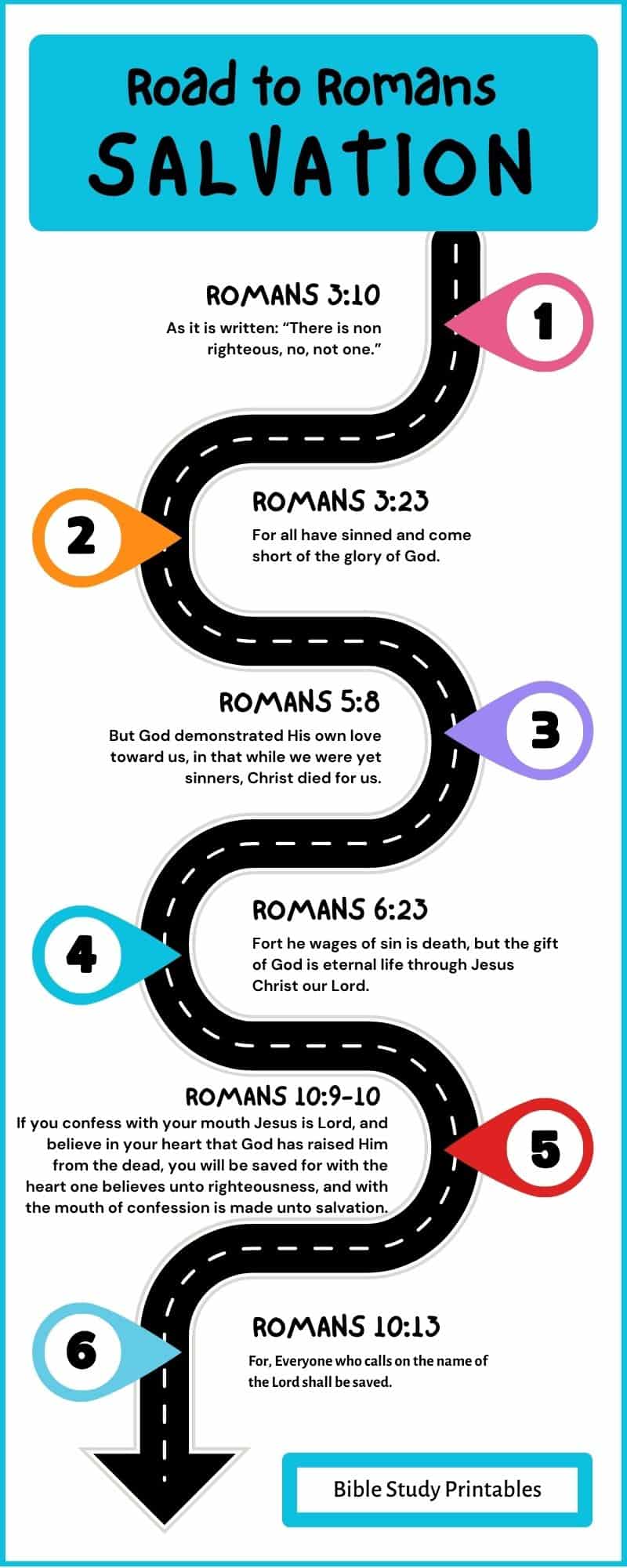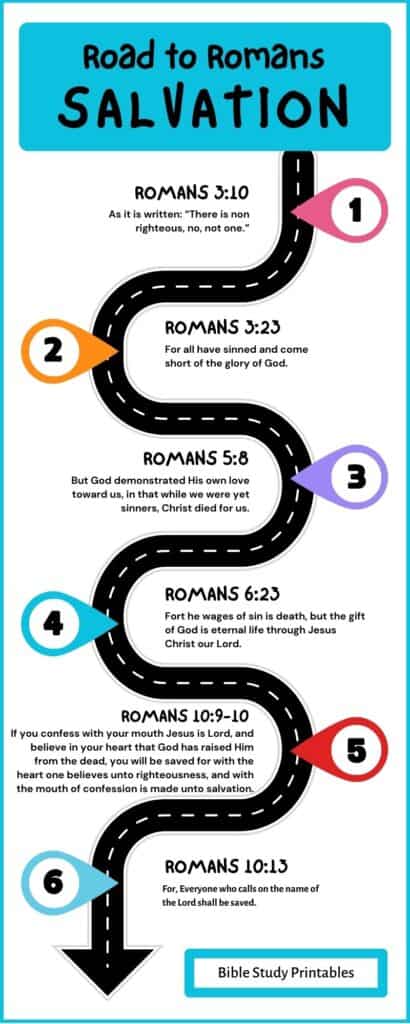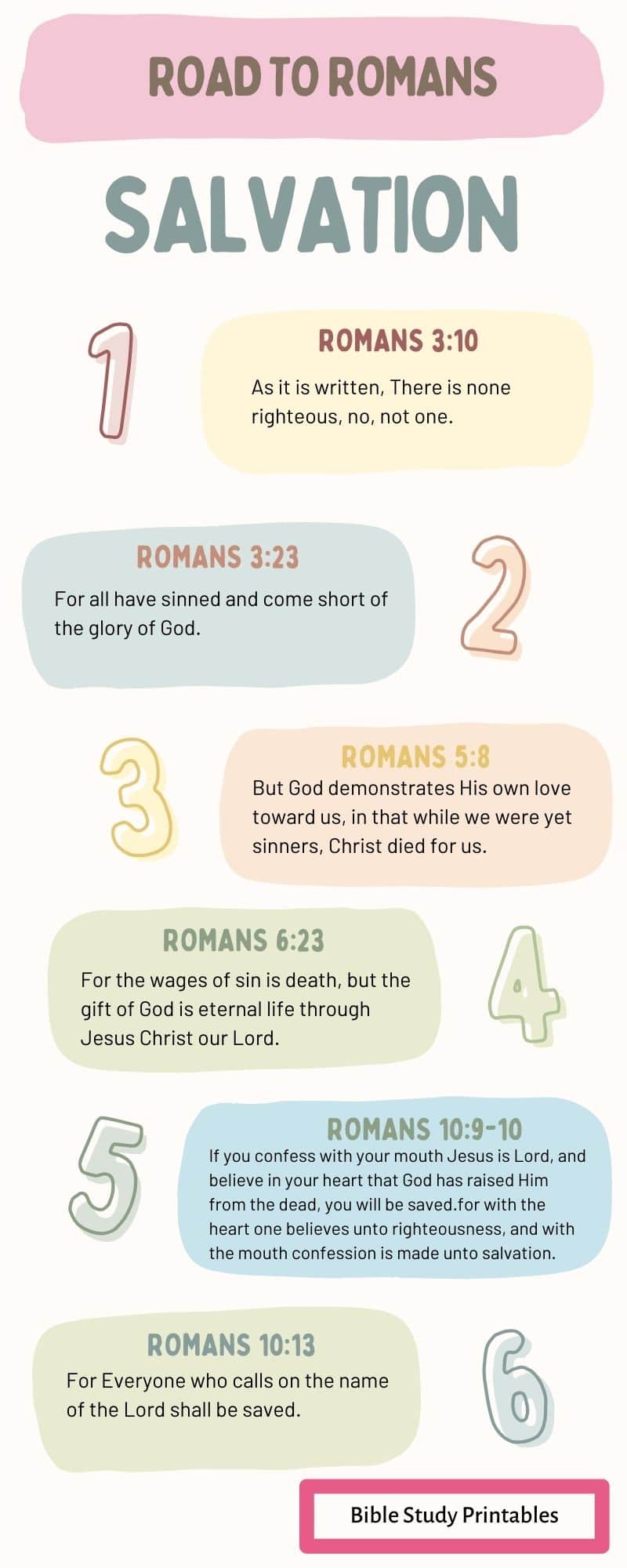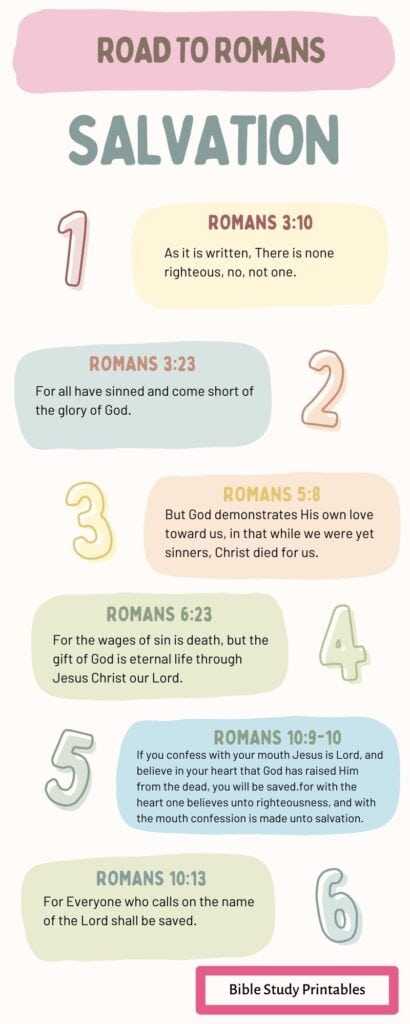 The Romans Road to Salvation is one all can walk
The simple yet powerful method of pointing people to salvation through "The Roman Road" is effective because it has a powerful set of verses that lays out a clear path to Jesus Christ.
Understanding sin isn't easy for those who think they are "good people", but everyone, no matter how good, is still a sinner in need of a Savior.
Ephesians 2:8-9 says, "For by grace you have been saved through faith, and this is not of yourselves. It is the gift of God, not of works, so that no one should boast." (MEV)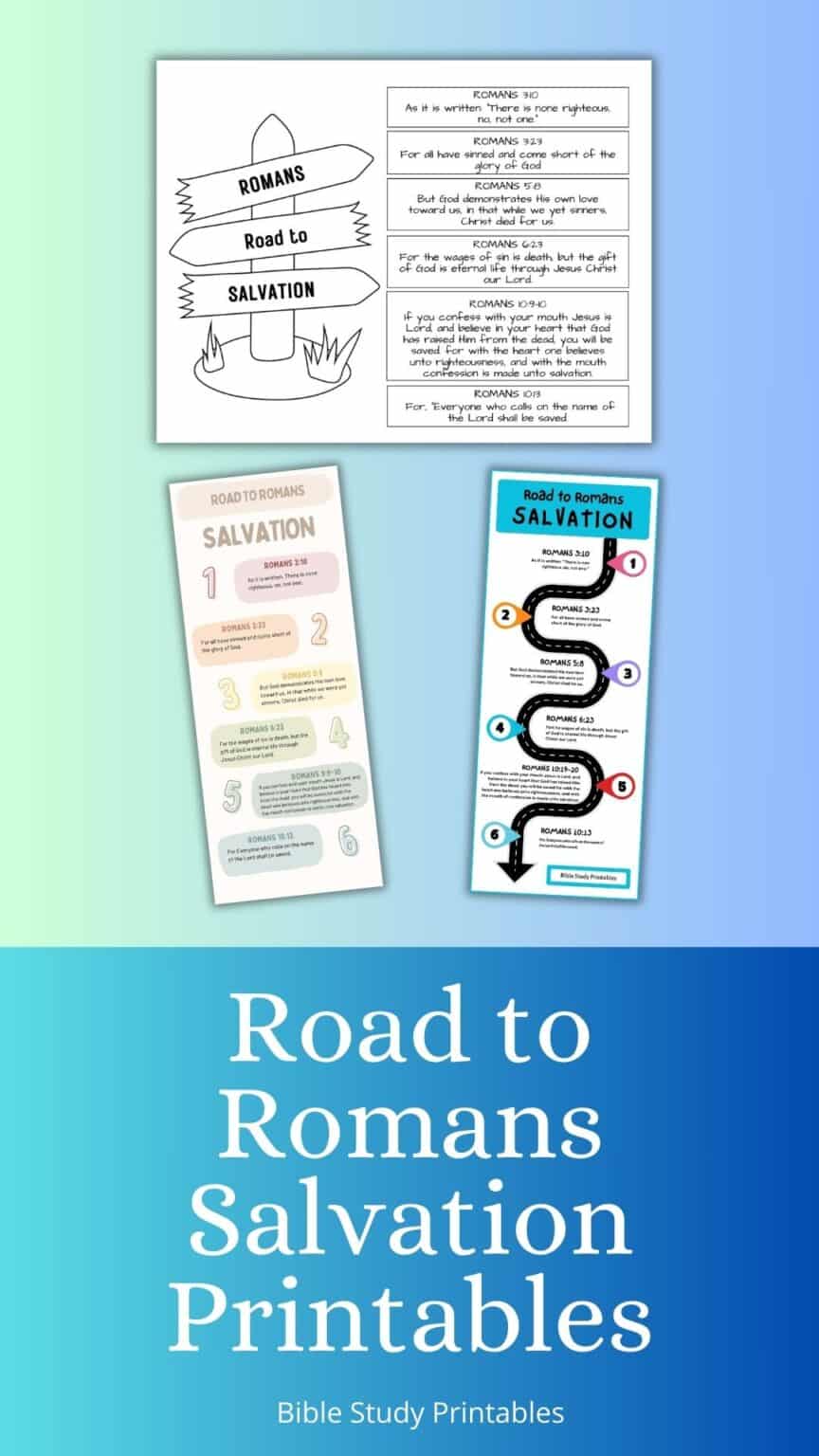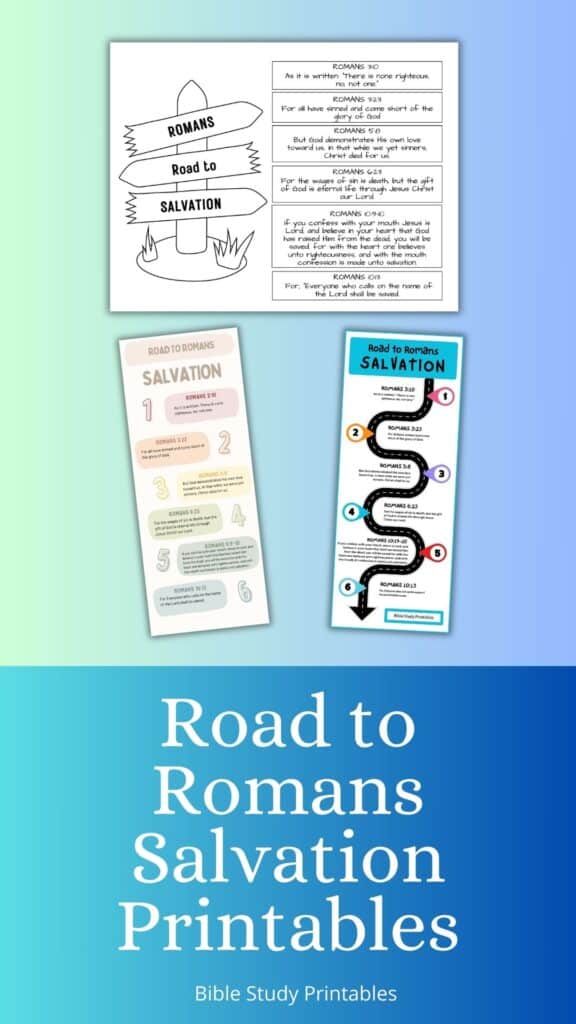 Salvation cannot be earned. It is a free gift, although many do not understand how it works, nor how to explain it to someone else.
Keeping the Gospel message simple is key to leading an unsaved person to Christ and even a new believer can testify and witness of God's love and His rescue plan for people using the path of the Roman Road to Salvation.
Be sure to check out these additional Bible study resources for kids: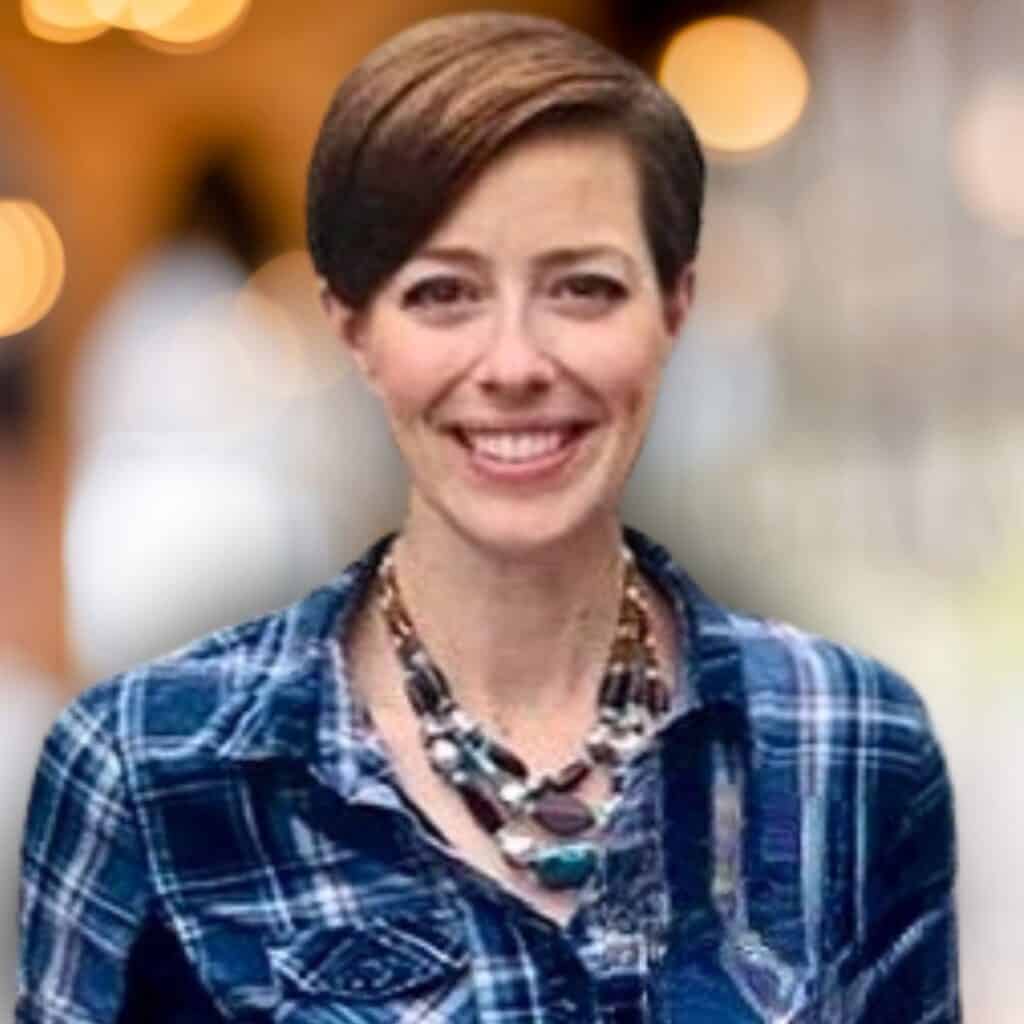 Alicia Purdy is a homeschool mom and an editor/writer, and serves as a worship leader in her local church. Alicia's calling from God is to use her education and experience to research and teach the Bible at The Way of the Worshipper