Are you looking for a creative way to teach your kids how to pray?
The 5 Finger Prayer method is a fun way of teaching children how to pray and who/what to pray for during their prayer time.
It was developed by Pope Francis (before he became a pope) to make it easier for children (and adults) to learn how to pray.
Visual cues are helpful in learning and, well, your hands are always with you so you always have the instructions right there in your hands!
This method of prayer is an easy way to get young children excited about prayer because they can see it as a game. And we all know that kids love games!
So, the next time you are struggling for the best starting point for your prayer time, just open your hand and start with your fingers!
This post may contain affiliate links, please see our full disclosure for more information.
How to Pray the 5 Finger Prayer
The five finger prayer method is simple. Encourage the children to begin praying by using the fingers of their hand as a reminder or prompt representing different groups of people to pray for.
Begin with the thumb, then move on to the next finger. It is a really helpful approach for helping them to pray with intention.
To get started, they can simply begin with "Dear God" or something like that. As adults, we often start with a little more eloquent speach such as "Mighty Creator" or "Gracious Father."
But it is important for kids to know that they don't have to be fancy in their speech with God. Kids are simple so keep it simple so they aren't so intimidated by it!
"Dear God, Thank you for today. I want to pray for… "
Then begin lifting each finger and talk about those people and what you want to pray for them about.
It's that simple!
Here are the people each finger represents: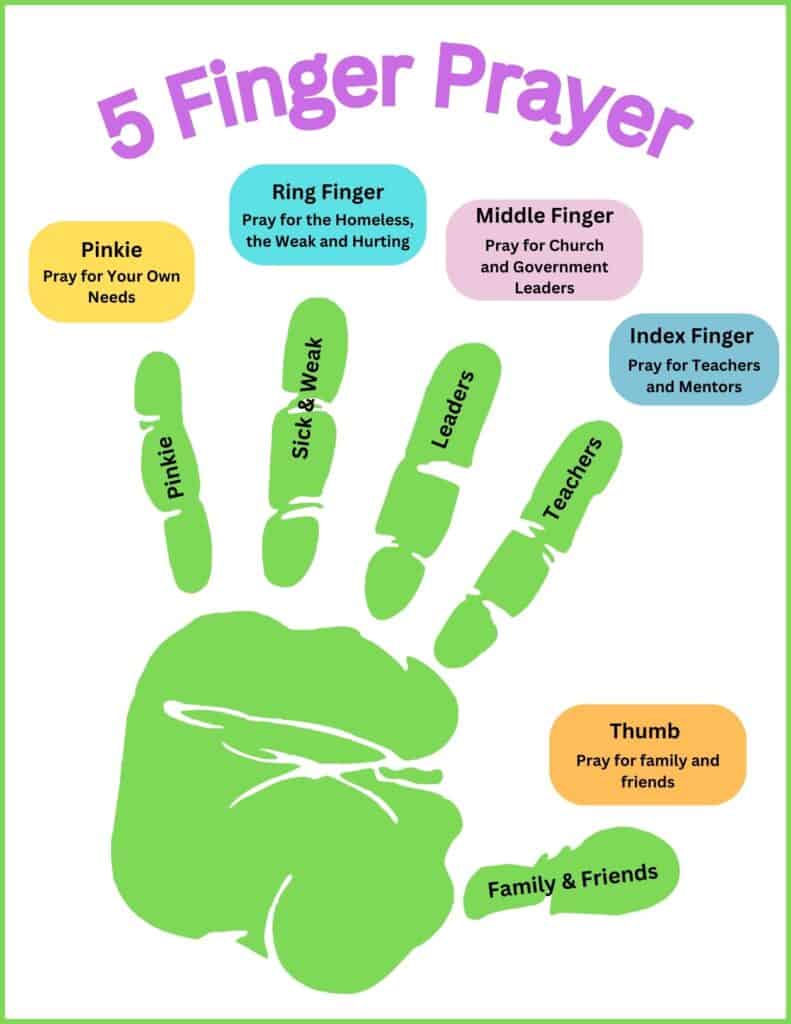 Thumb
Your thumb is the closest finger to your heart. This inspires us to pray for those closest to us such as family and friends.
Our family and close friends are the most important group of people in our lives. So it makes sense for us to pray over them first!
In your own words, ask God to protect and heal those closest to you. You can pray over them in a general way or use specific names for anyone in particular that comes to mind.
The Pointer Finger
The pointer finger, also called the index finger, is for giving directions.
This inspires us to pray for those who do the important work of pointing us in the right direction in life.
This includes teachers, coaches, mentors, and first responders and anyone else that might be in a position to lead us in life.
The Middle Finger
The middle finger is the tallest finger which towers over the others in sort of a leadership place. This inspires us to pray for our leaders in the church and in government.
Encourage them to pray for their Pastors and other church leaders, as well as others within a leadership position or position of influence outside of their own church.
And encourage them to pray for their local leaders like the Mayor of their town, as well as bigger leaders such as the President.
The Ring Finger
The fourth finger to pray from is the ring finger, It is the weakest finger on your hand. This inspires us to pray for the weakest in society (those in the most need).
It is important to teach kids to pray for the homeless and others who are sick or hurting within the community.
The Pinkie Finger
The last finger is also the smallest finger. This little finger inspires us to pray for ourselves.
We should always bring our own needs before God. But using this finger method encourages us to put our needs last and to put the needs of other first in our prayer time.
I should also mention that this prayer method isn't just for kids!
This simple and cute method of prayer can also be used by adults who might be learning to pray for the first time. It is so easy but it is also so powerful.
5 Finger Prayer Printables
There are lots of fun and creative activities to help kids remember the 5 Finger Prayer methods.
These are great for personal use with your kids at home, as well for use in Sunday school and other group settings.
Use this five-finger prayer worksheet and have the children write in the names of specific people they want to pray for in each of the categories.
We know that kids love to color! What better way to help them remember the 5 finger prayer method than with a coloring page.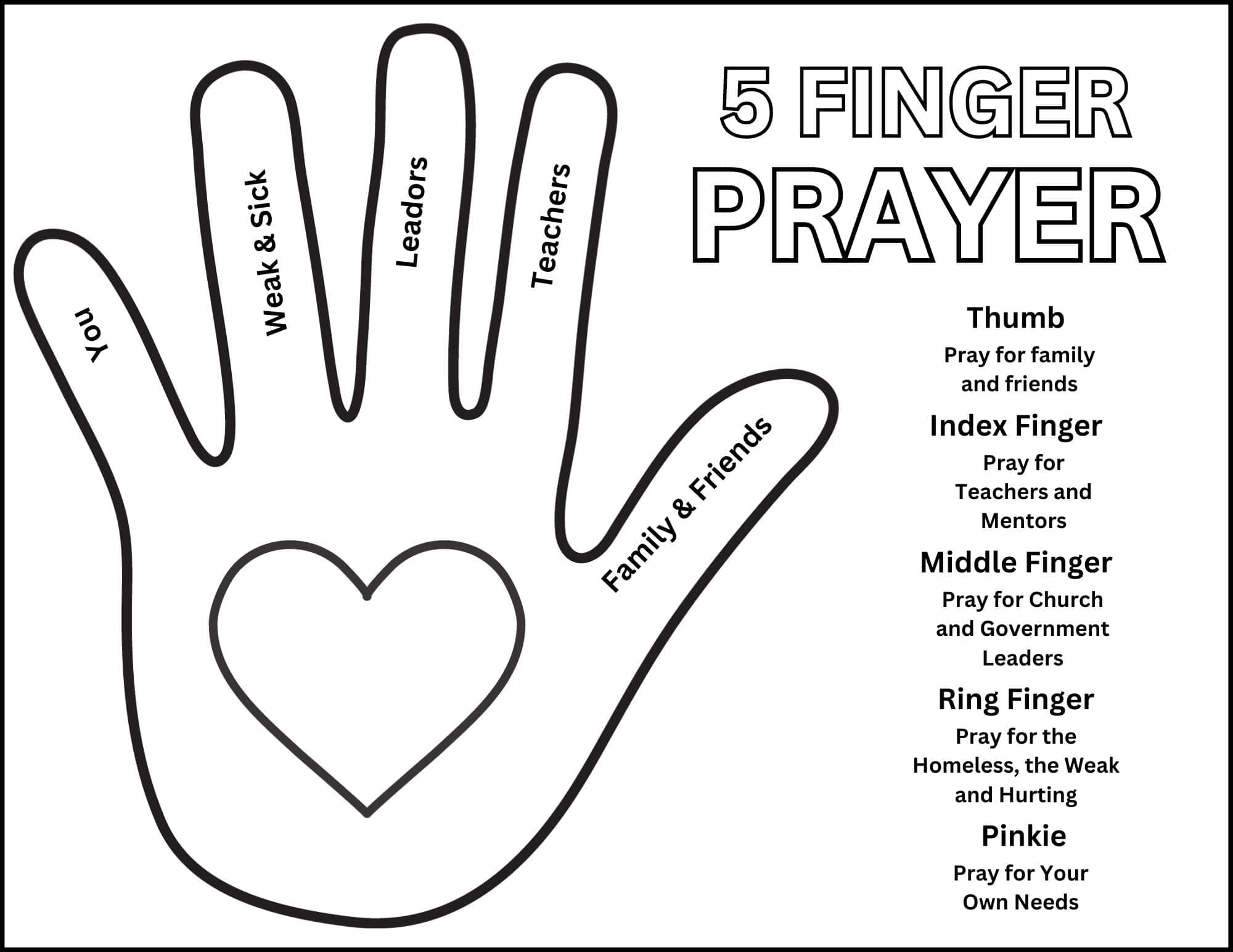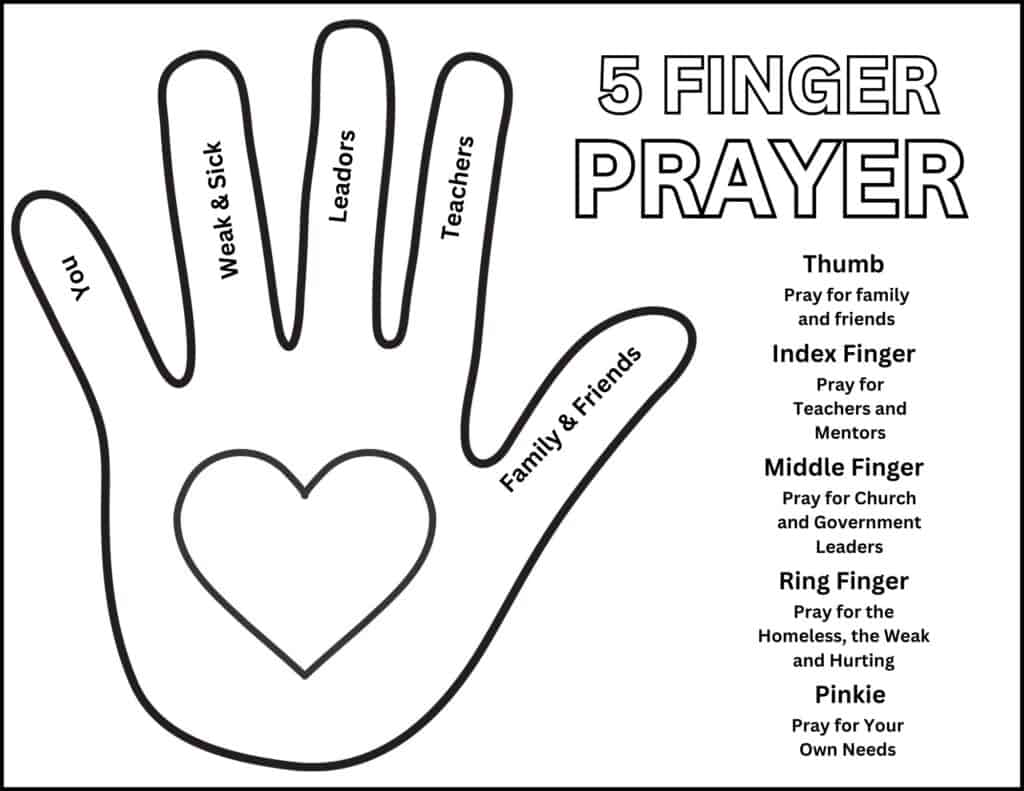 The Five Finger Prayer is such a great way to encourage kids as well as adults who are new to prayer, to pray more confidently using their fingers as a guide.
It is a practical and visual way to structure prayers and make them more meaningful.
It reminds you to pray not only for your own needs but also for others, express gratitude, surrender your concerns, and open your heart to God's presence in your life.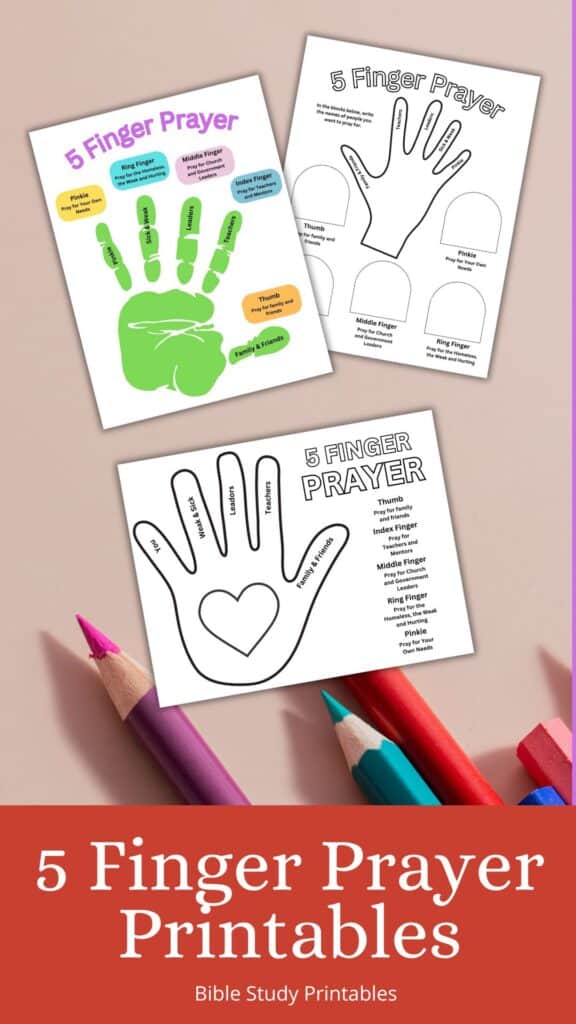 Remember that while this method can be a helpful guide, there is no one right way to pray. Prayer is a personal and spiritual practice, and you can adapt your approach to suit your beliefs and needs.
The Five Finger Prayer is just one of many tools that can assist you in your prayer journey.
Be sure to check out these additional Bible study resources for kids: