Are you looking for fun and educational printables and activities to teach your children about the 10 Commandments?
Look no further! We have compiled a list of free printables that will help your children learn and remember the 10 Commandments in a creative and engaging way. 
A few months ago I started bringing out some of my 10 Commandment printables and resources for my 4 and 5-year-old.
Although they don't quite 'get it all' most of the 10 commandments are very simple for children to understand.
My conclusion has been that it is never too early to start teaching children foundational truths like the 10 Commandments, Fruits of the Spirit, or Beatitudes.
From memory cards and crafts to games and coloring pages, these printables will make learning about the 10 Commandments a fun and interactive experience for kids of all ages.
Whether you are using them for Sunday School, homeschool, a Christian school, or for personal use, they will be a great way to teach the 10 Commandments.
Gather your supplies and get ready to dive into these exciting 10 Commandment printables!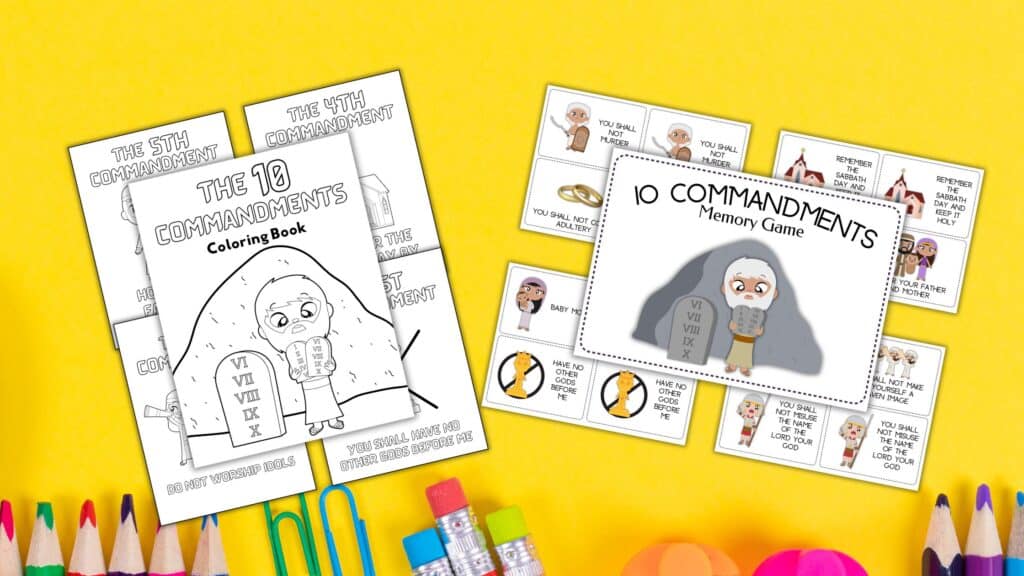 This post may contain affiliate links, please see our full disclosure for more information.
Printable 10 Commandments Activities
The 10 commandments were given to Moses on Mount Sinai in the book of Exodus. They are a guide for moral conduct, and represented a covenant between the Jewish people and God.
A guide is probably too loose of a term. These commandments in the Old Testament were to be kept without fail.
Jesus came to fulfill the law, he didn't eliminate it, but perfectly fulfilled it.
What happened on mount sinai as the voice of God brought down the 10 Commandments is still applicable today as we teach our children the importance of the commandments.
These free printables will aid you in your Bible lessons as you teach the 10 commandments.
I find that one of the best ways to teach child about a lesson in the Bible is to get them to interact with the passages, these printables will do just that!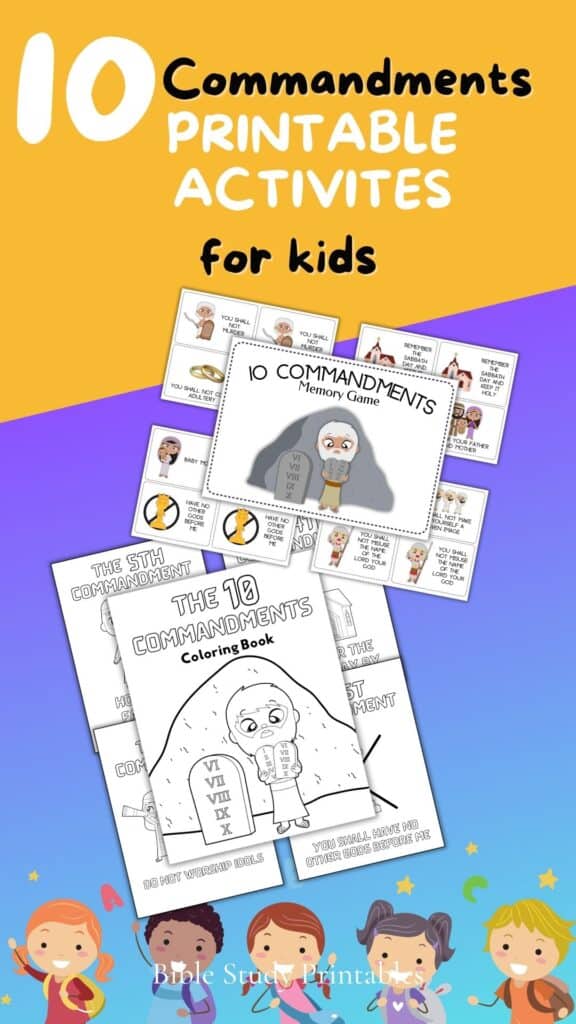 If you are in a classroom setting that has a felt board, check out these adorable felt 10 Commandment pieces. They are super cute! 
This is the order of the 10 Commandments taken from the NIV version.
The First Commandment: You shall have no other gods before me.
The Second Commandments: You shall not make for yourself an image in the form of anything in heaven above or on the earth
The Third Commandment: You shall not misuse the name of the Lord thy God
The Fourth Commandments: Remember the Sabbath day by keeping it holy.
The Fifth Commandment: Honor your father and your mother
The Sixth Commandment: You shall not murder.
The Seventh Commandment: You shall not commit adultery.
The Eighth Commandment: You shall not steal.
The Ninth Commandment: You shall not give false witness/testimony against your neighbor.
The Tenth Commandment: You shall not covet your neighbor's house.
Printable 10 Commandment Memory Cards
These cards are a great tool for reinforcing the commandments and helping kids commit them to memory.
Each card features one of the commandments along with a corresponding image or symbol, making it easier for children to remember and understand.
Whether you're using these cards in a Sunday school or Christian school setting, or simply as a fun activity at home, they are sure to make learning the commandments an enjoyable experience.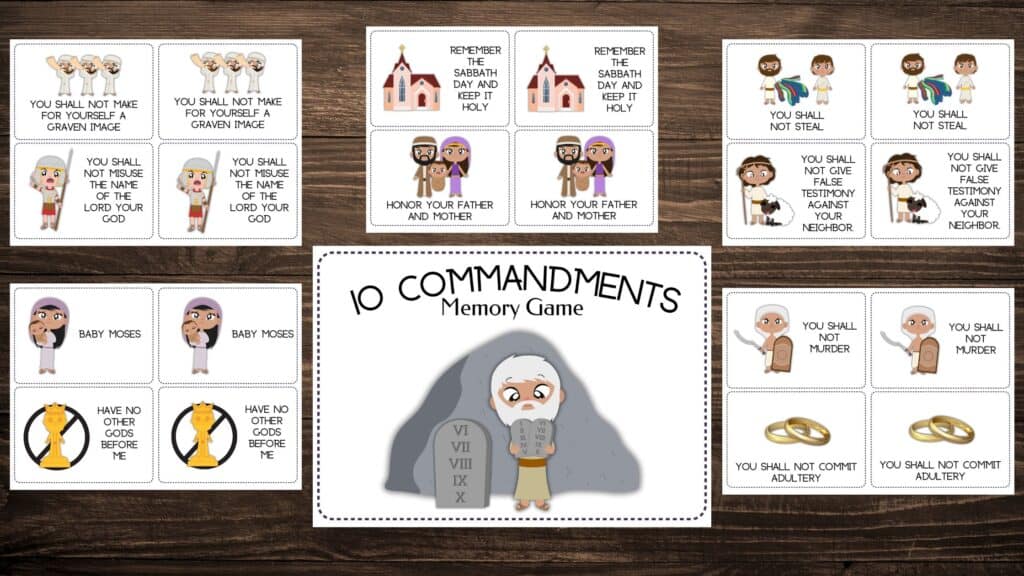 Simply print out the cards, cut them out, and let your kids play memory matching games or create their own flashcards. It's a simple yet effective way to engage children with the important lessons from the Bible.
The memory cards are just one of many simple ways to reinforce the story of Moses in your Bible lesson.
So, dive into these printable memory cards and watch as your children learn and grow in their understanding of the 10 Commandments.
Printable 10 Commandment Crafts
These 10 Commandment crafts from other content creators are a great addition to your lesson plans!
Not only will they have a blast making these crafts, but they will also gain a deeper understanding of the Bible lessons and the importance of following God's commands.
These simple ways of teaching will make the commandments come alive for your children and leave a lasting impression. So, grab your scissors and glue, and let's get crafting!
Some additional 10 Commandments crafts can be found below:
If you are looking for more Bible crafts and activities for your little one, I highly encourage you to check out the Hello Bible subscription box.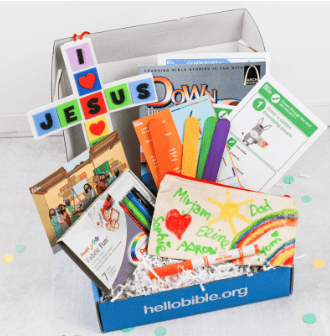 In the Junior box subscription it even has an entire box filled with crafts and lessons about Moses.
Want to learn more about the Hello Bible Box check out these reviews by Mindy Jones Blog and Healing Home.
Printable 10 Commandment Games
Are you ready to make learning about the 10 Commandments even more exciting? These Bible games are the perfect way to engage your children in a interactive way.
From memory games and puzzles to word searches and crossword puzzles, these printable games cover a wide range of activities to suit different learning styles.
So, gather your family or Sunday school class and get ready for some Bible game fun! Let the games begin and watch as your children dive into the wonderful world of the 10 Commandments.
Here are a few games from other bloggers and content creators.
One simple game idea that I like is playing musical chairs. When the music stops the person has to shout out a commandment like "on the seventh day rest!" If you have a big enough group, this is a very active way to review!
Printable 10 Commandments Coloring Pages
These coloring pages are a great activity to engage children with the commandments while allowing them to express their creativity.
Each coloring sheet features one of the commandments along with an accompanying illustration, making it easier for kids to understand and remember the lessons.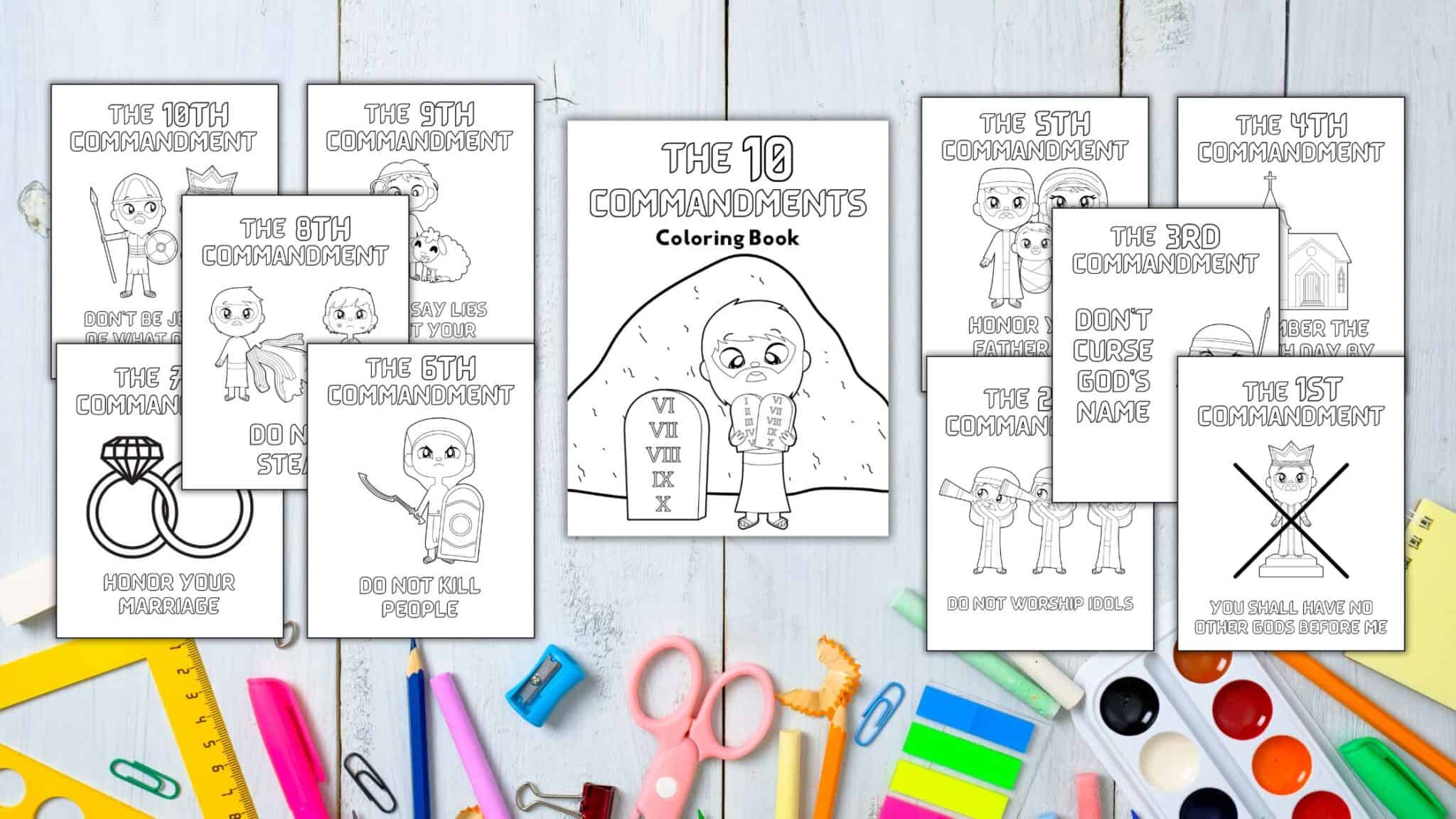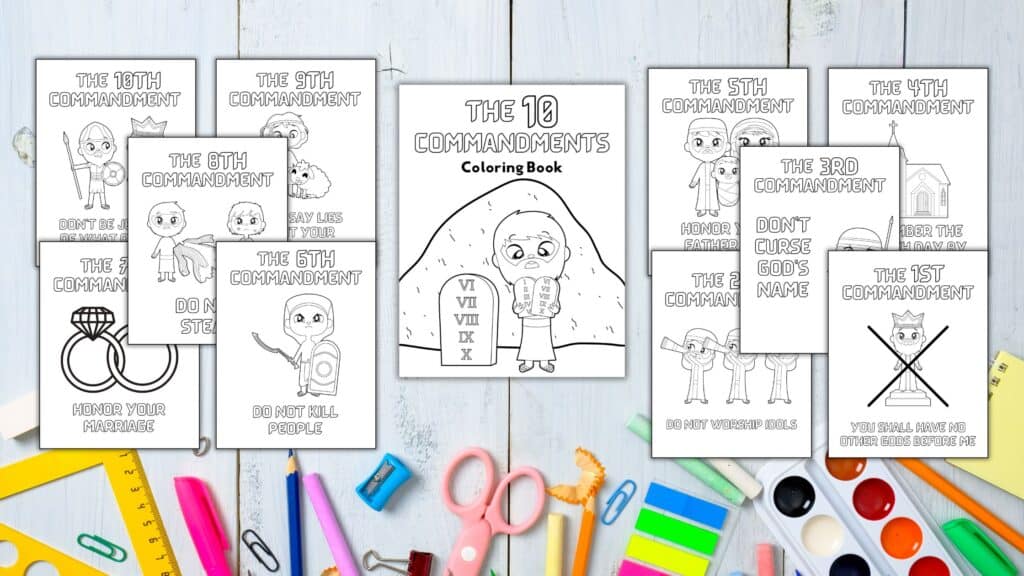 You can download the coloring book (above) for free here.
Whether your child enjoys coloring within the lines or adding their own artistic flair, these coloring pages provide a fantastic opportunity for them to learn about the importance of following God's commands.
As they color, you can discuss the meaning behind each commandment, share the story of Moses and the 10 Commandments, or talk about the relevance of these commandments in both the Old and New Testament.
So grab some crayons or colored pencils and let your children bring these commandments to life through vibrant colors.
It's a wonderful way to spend quality time together while teaching them the best ways to live by God's word.
All these 10 Commandment printables are a great addition to any lesson.
The good news is that Jesus came not to abolish the law, but to fullfill it! As you use these printables, I encourage you to remind children about that truth. 
For more resources to teach kids these important biblical stories, be sure to check out: